Berkeley Natural History Museums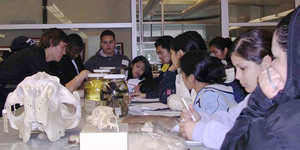 The world-class collections (> 15.5 million specimens) and facilities enable research, teaching, and outreach in biological and environmental sciences at the world's leading public university. With their historical collections, strategically placed field stations, and strong organismal focus, faculty associated with the BNHM are now making use of new technology in genomics, computational biology, and environmental analyses. Researchers are combining these domains with biodiversity informatics to understand how morphological and genomic diversity mediates response to a changing environment. This in turn illuminates the most pressing environmental issues of today, including climate change, conservation biology, invasion biology, and land management.
Some specific areas of research include:
Evolution of biodiversity - Combining species discovery, phylogenetic and biogeographic analyses, BNHM faculty and students test hypotheses about what generates diversity, from genes and individuals through species to communities. With a strong focus on biodiversity hotspots, California landscapes, and the tropics, the results identify strategies for improving conservation by focusing on the processes, as well as products of evolution.
Climate change - BNHM researchers are using uniquely detailed historical datasets to identify responses to past climate change, from geological to recent timescales; but much more could be done. Ecological studies at field stations have identified how species interactions can affect ecosystem responses. Results improve forecasts of species and ecosystems responses to future climate change.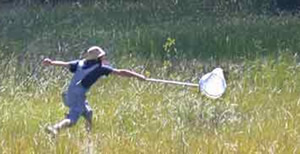 Education
The BNHM provide numerous research opportunities for undergraduates, students receiving training in specimen preparation, curation, and organismic evolution. In addition, hundreds of undergraduates visit the field stations every year, mostly for weekend classes. The BNHM also provides a rich environment for graduate education. This year alone BNHM hosted 5 Miller awardees (2 postdocs, 3 visiting professors).
Outreach
Facilities & resources of the BNHM allow unrivaled opportunities for development and outreach, with physical & intellectual manifestations of UC Berkeley's prominence in research & education.
Web site: The website has links to all of the activities associated with the museums and field stations, including databases, links to museum research, seminars, and educational opportunities.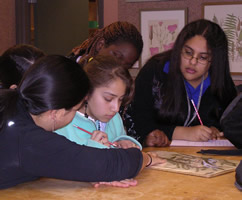 East Bay Science Cafe (EBSC): The BNHM sponsors monthly informal lectures held in a cafe setting, allowing UC researchers to communicate their science to an interested public. Topics vary, but always generate lively discussions.
The BNHM has a strong presence on Cal Day, with numerous displays and activities held in the Valley Life Sciences Building courtyard, with themes changing yearly.
The BNHM are involved in a program in which graduate students work directly with inner-city school children to teach about science and careers through tours and trips to the museums and field stations and hands-on exercises (Exploring California Biodiversity). At the same time, the graduate students, by communicating tools, methods, and outcomes of their research, are themselves receiving education in methods of teaching.
Member Museums:
Member Field Stations: