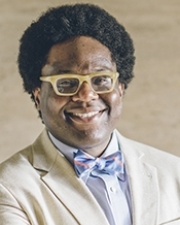 Research Expertise and Interest
law
,
bioethics
,
reproductive and genetic technologies
,
race
Research Description
Osagie K. Obasogie is the Haas Distinguished Chair and Professor of Bioethics in the Joint Medical Program and School of Public Health. He began his career at the University of California, Hastings College of the Law as an Associate and then full Professor of Law, teaching courses on Constitutional Law, race, and law and the health sciences. He joined Berkeley in 2016.
Obasogie chairs the Diversity and Health Disparities Cluster at the Haas Institute for a Fair and Inclusive Society. His research and writing is on bioethics, with a focus on the social, ethical, and legal implications of new reproductive and genetic technologies. Obasogie's research also looks at the past and present roles of science in both constructing racial meanings and explaining racial disparities. He has a particular interest in developing legal mechanisms that can create the conditions for eliminating health disparities. 
An additional thread of Obasogie's research uses novel theoretical and empirical interventions to explore the hidden ways in which racial thinking is central to law, medicine, and science. His first book, Blinded By Sight: Seeing Race Through the Eyes of the Blind (Stanford University Press) was awarded the Herbert Jacob Book Prize by the Law and Society Association. His second book, Beyond Bioethics: Toward a New Biopolitics (with Marcy Darnovsky), is under contact with the University of California Press. Obasogie's writings have appeared in scholarly journals such as the Law & Society Review, University of Pennsylvania Journal of Constitutional Law, and Stanford Technology Law Reviewas well as journalistic outlets such as the New York Times, Slate, and Scientific American.