Berkeley Public Health Is on the Frontline of Research into How Racism Affects Public Health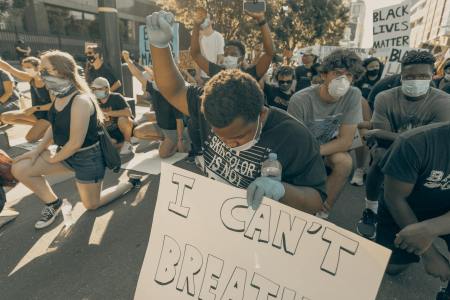 Race- and ethnicity-based inequities in health outcomes for Americans are not news to public health specialists. Here at the UC Berkeley School of Public Health, our faculty, researchers, and students have been working to illuminate the many ways in which racism affects who gets healthcare, how that healthcare is delivered, and possible solutions to entrenched problems like police brutality.
"I think, in general, Berkeley is one of the home places [where] we really embody the social determinants of public health," said Cassondra Marshall, an assistant professor in the Maternal, Child and Adolescent Health program at Berkeley Public Health who has documented multiple racial and ethnic disparities in reproductive health. "People [at the school] are looking at Black women and how racism has affected them on a biological level, and people are looking at police violence…. I think as we're going through this Black Lives Matter moment, we're looking more at racism. I think that's the next step."
Researchers at Berkeley Public Health have confirmed that race-based health inequities are not the result of biology or circumstances that can simply be resolved with better nutrition or widespread increased education, but rather that these issues stem from structural racism. 
"You can think of race as being a marker of social inequities," said Osagie K. Obasogie, a professor of bioethics in the school's Joint Medical Program. "We try to see race as a socially constructed difference that leads people of color to have these disparities and how racism disproportionately affects people of color to have adverse health outcomes."
Amani Allen, an associate professor of community health sciences and epidemiology, has done extensive research on the ways in which instances of racism, structural racism, internalized racism, and the anticipation of racism, have contributed to the allostatic load, or "wear and tear" of the bodies of Black people and, more acutely, Black women. Allen's research points to how racism, rather than other social determinants, is the cause of depreciation of the body, which can cause additional chronic physical and mental health issues over time. 
And epidemiology Professor Mahasin Mujahid has researched and measured rates of cardiovascular issues in Black communities, finding that general population-wide reductions in cardiovascular disease and mortality are not shared by Black communities despite effective pharmacotherapies.
"Good health is concentrated in certain communities and certain communities seem to have persistent patterns of poor health across so many different indicators and there are so many different inequities," Marshall said. "Preterm birth, infant mortality, maternal mortality and morbidity, these are all examples of unacceptable racial inequities."
Marshall added that those in public health cannot be in this field without paying attention to racial inequities that affect the rates of heart disease, cancer, diabetes, and reproductive health issues in Black populations. Marshall and other researchers have maintained that public health research has historically been rooted in eugenics that disproportionately impacted those that were not defined as fit, such as Black, indigenous, and disabled populations. 
"Community health resonated with me as I wanted to know why the communities I was a part of had some of these health inequities," Marshall said. "We're realizing now that intergenerationally, the things we experienced are rooted in what our mothers experienced."
Public health research has also tracked the disproportionate police violence against Black populations. Obasogie, who has a law degree in addition to a PhD in sociology, has comprehensively studied the ways in which American laws preserve police brutality.
"The project I'm working on now is how law can be the determinant of adverse health outcomes connected to police violence," Obasogie said. "What I'm looking at is how law creates the conditions that allow police officers to continue to act in ways that harm their communities. It's not just bad apples."
"My work looks at federal constitutional laws that focus on ambiguous rules that define what is excessive force or not and leads judges and juries not to hold police officers accountable when they use excessive force," he added.
Denise Herd, a Berkeley Public Health professor and director of Community Health Sciences at the school, has also done research on how police brutality disproportionately affects Black communities, leading to increased levels of chronic stress, lowered resistance to diseases, increased rates of death and psychological harm, and socioeconomic marginalization with fewer opportunities for housing, education, and employment2.
"Police violence hurts people. We also have to see it in a public health way and see what set of conditions allow police to do this harm repeatedly," Obasogie said. "These are issues that affect the community I come from. To the extent that I want to improve these health disparities, this is an opportunity to help resolve the issues that are in my community and allow everyone to live as healthily as possible."
As many of Berkeley Public Health faculty members who study race-based health inequities are both from the same communities they work with and also affected by the issues they research, their work can be very personal
"I belong to those groups. I am those statistics." Marshall said. "So much of this is so personal. In research, we are not taught to think of things personally, but it is. We're the population that we study. And with the trends that we see, the bottom line is that this is our community and we can't forget that, especially when these trends affect us and it drives us to study what we study."
One thing Marshall emphasized was that race-based inequities cannot be accounted for by socioeconomic status. Getting an education or going up in socioeconomic status is no armor for entrenched racism that drives each of these health inequities. 
Indeed, multiple research reports from Berkeley Public Health researchers show that Black and White communities within the same neighborhoods or of the same socioeconomic status have vastly different experiences.
For example, Allen has done research on how Black and White mothers from the same county are reported to Child Protective Services at disproportionate rates due to higher levels of alcohol and drug screenings for Black women. White women aren't screened at the same rate, though they are just as likely to have used drugs or alcohol while pregnant. She suggests universal screening and treatment during pregnancy as potential solutions.
Similarly, Marshall's research has found that Black and Hispanic women of reproductive age who are diabetic have poorer glycemic control than White women, even when they are all patients of the same HMO.
What are solutions to the inequities built into the healthcare system in particular? Some suggestions from UC Berkeley researchers: increased diversity in the leadership within healthcare systems, social inclusion, community-based research and mobilization, and even doctor-patient race concordance.
"The gap is that we often talk about the differences and disparities but we don't always train people in public health about where these come from. If you peel it all back, it is structural racism," Marshall said. "I think the gap is appreciating and understanding that entirely."