Glaunsinger, Martin named Howard Hughes Medical Institute investigators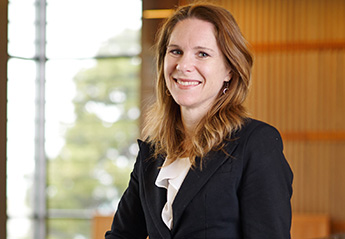 Britt Glaunsinger, an associate professor of plant and microbial biology, and Andreas Martin, an associate professor of molecular and cell biology, are the campus's newest Howard Hughes Medical Institute investigators, joining 19 other UC Berkeley faculty members whose salaries and a major part of their research are paid for by the Howard Hughes Medical Institute.
Glaunsinger and Martin, both associate professors, are among 26 new investigators from 19 U.S. universities and medical centers announced May 19 by the institute, which is headquartered in Chevy Chase, Maryland. UC Berkeley was one of seven institutions to receive two appointments.
"Scientific discovery requires original thinking and creativity," said HHMI president Robert Tjian, a UC Berkeley professor of molecular and cell biology and one of the campus's HHMI investigators. "Every scientist selected has demonstrated these qualities. One of the most important things we can do at HHMI is to continue to support and encourage the best discovery research. We don't know this for certain, but the ideas that emerge from these labs might one day change the world, and it's our privilege to help make that happen."
HHMI investigators are among the nation's top biomedical researchers and receive flexible financial support, which the institute feels is necessary to move research in creative new directions. The new HHMI investigators were selected for their individual scientific excellence from a group of 894 eligible applicants. The initiative represents an investment in basic biomedical research of $153 million over the next five years.
Investigators, all mid-career scientists, are funded in five-year cycles sufficient to cover full salary, benefits and a research budget. Their appointments may be renewed for additional five-year terms, each contingent on a successful scientific review. UC Berkeley's contingent now consists of 20 HHMI investigators and one early-career investigator.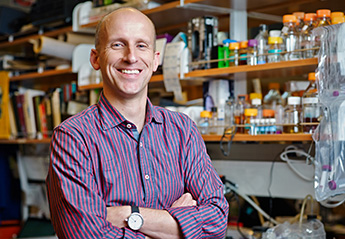 HHMI encourages its investigators to push their research fields into new areas of inquiry. Glaunsinger, for example, hopes to learn a lot about human biology by studying viruses that have evolved to infiltrate our cells. She searches for functions of mammalian cells that are exploited by viruses, then investigates how those functions aid the virus, as well as their normal roles in cells. She has focused on uncovering how viruses use or target RNA to manipulate gene expression.
Martin focuses on the proteasome, the molecular machine responsible for disposing of damaged or obsolete proteins that is so crucial to healthy cells that attempts to manipulate it inside cells inevitably kill them. Martin spent several years devising a production system in bacterial cells as well as assembly strategies in the test tube to reconstruct fully functional proteasomes, each of which has at least 34 different subunits, so he can examine their structure and function in detail. His work is offering a new framework for understanding how the proteasome is able to specifically degrade hundreds of different proteins in the cell.
The new HHMI investigators are expected to begin their appointments in September 2015.
For more on the new HHMI investigators, link to the HHMI press release or to a profile of Glaunsinger.
RELATED INFORMATION