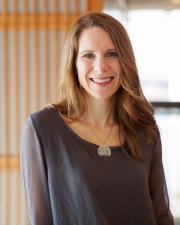 Britt Glaunsinger
Department
Dept of Molecular & Cell Biology
Dept of Plant and Microbial Biology
Research Expertise and Interest
virology
,
gene expression
,
herpesvirus
Research Description
We explore how viruses interface with an infected cell, as well as how they hijack cellular machinery for their own use.  We are particularly interested in how herpesviruses shape the gene expression environment of their host cell.  We primarily study gammaherpesviruses, including Kaposi's sarcoma-associated herpesvirus, which is a major cause of AIDS-associated cancers. We anticipate that these studies will enhance our understanding of virus-host interactions, as well as provide insight into how gene expression pathways are normally regulated in human cells.
In the News
June 12, 2020
As the public health community races to contain the current global pandemic, researchers are working diligently to understand the novel coronavirus. Such efforts cross many facets of scientific research — from virology to wildlife ecology to medicine — with the ultimate hope of containing the virus and developing a vaccine.
May 21, 2015
Andreas Martin, an associate professor of molecular and cell biology, and Britt Glaunsinger, an associate professor of plant and microbial biology, are the campus's newest Howard Hughes Medical Institute investigators.
August 16, 2010
Berkeley biochemist Britt Glaunsinger studies the cell-takeover tactics of herpes viruses. "Antivirals only work on viruses that are replicating," she says. Discovering ways "to lure latent viruses out of hiding, en masse," is critical to curing herpes, shingles, or HIV.