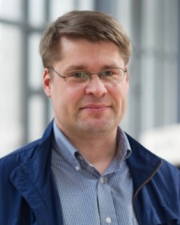 Yuriy Gorodnichenko
Title
Professor of Economics
Research Expertise and Interest
In the News
March 11, 2022
The cameras are focused on the savage Russian bombardment of Ukraine and the resistance of Ukrainians and Russian protesters, but largely off-camera, the war is unfolding as a rapidly escalating economic conflict that has sent shock waves around the world.
February 25, 2022
In the hours immediately following Russia's invasion of Ukraine, Berkeley News asked Ukrainian faculty and students at UC Berkeley for their reactions. Their thoughts ranged across issues of family, geopolitics and justice, but each of them, in their own ways, expressed shock and defiance — and hope that the global community would rally to protect democracy and freedom.
June 10, 2021
The U.S. Department of Labor reported yesterday that the Consumer Price Index rose 5% in May, following a 4.2% jump in April. But at UC Berkeley, high-level economists are offering some calming advice: A measure of inflation is inevitable as the U.S. economy comes back online, but it will likely be modest. And it will almost certainly blow over as the economy stabilizes.