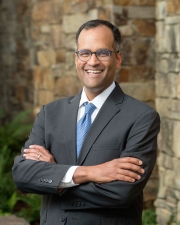 Sanjay Kumar
Title
Chancellor's Professor and Chair, Department of Bioengineering
Department
Dept of Bioengineering
Dept of Chemical and Biomolecular Engineering
Research Expertise and Interest
biomaterials
,
molecular and cellular bioengineering
,
stem cells
,
cancer biology
,
translational medicine
Research Description
The Kumar Lab research team seeks to understand and control biophysical communication between cells and their surroundings.  A large portion of their work involves the integration of biomaterials science, single-cell technologies, and advanced imaging to dissect molecular mechanisms through which cells sense, process, generate, and respond to mechanical forces. In addition to investigating fundamental aspects of this problem, they are especially interested in applying their insights to control tumor and stem cell biology, particularly in the central nervous system.  For example, they have developed materials to control neurogenesis and deliver stem cells to tissue, and they have created new technological platforms to model the invasion of brain tumors, which may in turn be used to discover new therapies.