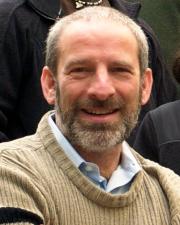 Ronald C. Cohen
Department
Dept of Chemistry
Dept of Earth and Planetary Science
Research Expertise and Interest
physical chemistry
,
climate
,
air pollution
,
atmospheric chemistry
,
environmental chemistry
,
analytical chemistry
,
ozone
,
nitrogen oxides
,
CO2
,
clouds
Research Description
Ronald Cohen's research aims to describe the role of chemical reactions, human activities and ecosystem functions as they affect Earth's climate and as they relate to unhealthy levels ozone and fine particles. His research on the chemistry of organic nitrates established that these molecules are the main path for removal of atmospheric nitrogen oxides on the continents. His research using satellite measurements of nitrogen oxides has established new methods for achieving accurate interpretation of trends in urban chemistry: http://behr.cchem.berkeley.edu/. In his newest research project, BEACO2N, he is building a neighborhood scale long-term observing system for tracking CO2 and air quality: www.beacon.berkeley.edu. This project was one of three "Climate Data in Action" efforts recognized in the Obama administration's Climate Data Initiative in summer 2014. The project is following trends in CO2 and related gases and aerosol in cities including the Bay Area, Pasadena, CA, Houston, TX, New York and beginning in 2019, Glasgow, Scotland.