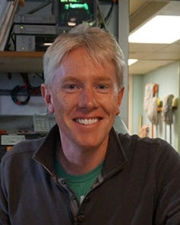 Richard Allen
Title
Professor of Earth and Planetary Science
Department
Dept of Earth and Planetary Science
Research Expertise and Interest
seismology earthquakes earthquake hazard mitigation earth structure tomography natural hazards
Research Description
Earthquake Rupture Processes and Hazard Mitigation: Kinematics and dynamics of fault rupture. Earthquake initiation processes. Rapid magnitude determination from P-wave arrivals. Earthquake early warning systems.
Natural Hazards: Effects and Mitigation
3D Structure and Processes of the Earth's Interior : Tomographic imaging of the Earth's interior to constrain 3D structure using integrated seismic techniques. Mapping of anisotropic structure to determine strain fields and flow in the Earth's mantle. Particularly interested in mantle upwelling processes, coupling with crustal deformation and surface volcanism.