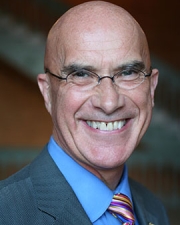 Paul Wright
Title
Director of the Berkeley Energy and Climate Institute & A. Martin Berlin Professor of Mechanical Engineering
Department
Department of Mechanical Engineering
Research Expertise and Interest
Mechanical and electrical engineering design
,
3D-printing
,
manufacturing
,
energy systems
,
wireless sensor networks
,
sensors/MEMS/NEMS
,
IT systems
,
automated manufacturing & inspection
Description
As a mechanical engineering professor, Paul Wright's personal research takes place in the Advanced Manufacturing for Energy (AME) laboratory. Funds from industry, foundations, the federal government, and the California Energy Commission (CEC), support an integrated research program on the resilience & analytics of energy systems. Individual PhD projects cover a broad spectrum: Communicating MEMS-sensors for advanced electrical-grids and gas distribution systems; Energy harvesting; 3D printing of storage systems; Demand Response, and Condition Based Monitoring (CbM) of energy systems. These projects are the catalysts for many recent start-ups such as Imprint Energy and Wireless Industrial Technologies. Paul Wright was born in the UK and holds degrees in metallurgy from the University of Birmingham, England. Prior to UC Berkeley he held academic positions at the University of Auckland, New Zealand; Cambridge University in England; Carnegie-Mellon University in Pittsburgh PA, where he was co-founder of the Robotics Institute; and the Courant Institute of Mathematical Sciences at New York University. His books and journal articles focus on mechanical engineering design, materials science, information systems, and manufacturing for energy. He is a Fellow of the Society of Manufacturing Engineers, Fellow of the American Society of Mechanical Engineers, and a member of the 'Industrial, Manufacturing & Operational Systems' Section of the U.S. National Academy of Engineering (NAE).