Costas Spanos Appointed New CITRIS Director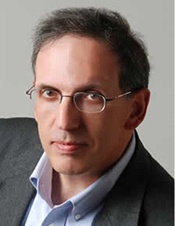 Costas Spanos, the Andrew S. Grove Professor and Chair of Electrical Engineering and Computer Sciences, will become the fourth Director of CITRIS (the Center for Information Technology Research in the Interest of Society) located at Berkeley, UC Davis, UC Merced, and UC Santa Cruz on February 1, 2014. Costas joined the Berkeley faculty in 1988 and has served in a number of key administrative roles including chair of EECS, Associate Dean for Research, and CEO of the Berkeley Educational Alliance for Research in Singapore (BEARS).  He is an expert in integrated circuit fabrication and high volume production, as well as in data mining and modeling in the areas of manufacturing and energy.
Spanos takes over from Paul Wright, A. Martin Berlin Professor of Mechanical Engineering, who served as CITRIS Director for the past seven years. With his leadership, CITRIS has grown to involve more than 300 researchers on the four campuses. Paul oversaw the creation of the micro/nano-manufacturing clean room (Marvell Nanofabrication Laboratory) and the CITRIS Invention Labs, now crucial components of the campus landscape. He fostered significant partnerships with California's government bodies leading to, for example, a state-wide telemedicine system enabling over 800 remote clinics to connect to clinicians at UC Davis Medical Center and CITRIS.