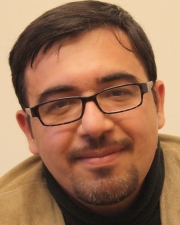 Mohammad Mofrad
Title
Professor of Bioengineering and Mechanical Engineering
Department
Dept of Bioengineering
Dept of Mechanical Engineering
Research Expertise and Interest
Molecular Cell Biomechanics; Bacterial Communities and Microbiomes; Deep Learning for Biology and Medicine; Cardiovascular Disease
Research Description
Mechanical phenomena affect nearly every aspect of cellular biology and function, yet the underlying mechanisms of how mechanical forces and biochemical signals interact is not clearly understood. The mission of our research program is to understand the regulatory mechanisms involved in mechanotransduction at cellular and subcellular levels, ultimately shedding light on the role of these processes in human disease. Specifically, our lab is currently engaged in the following projects:
I.    Molecular pathways involved in cell mechanotransduction, coupling the extracellular matrix to the nucleus
II.    Bacterial mechanotransduction and microbiomes
III.    Deep learning for biology (deep proteomics and deep genomics) and medicine (clinical classifications and diagnostics)
IV.    Multiscale models of cardiovascular biomechanics, in particular, the aortic valve
For more information, please visit http://mechano.bio
In the News
March 4, 2014
First look at how individual staphylococcus cells adhere to nanostructures could lead to new ways to thwart infections. Berkeley Lab led research could guide the development of bacteria-resistant materials.
March 21, 2013
Your cells are social butterflies. They constantly interact with their surroundings, taking in cues on when to divide and where to anchor themselves, among other critical tasks.
May 10, 2010
UC Berkeley assistant professor of bioengineering Mohammad Mofrad has been busy uncovering the mysteries of how human cells behave when physical force is applied to them, working at the exact intersection of engineering and biology.