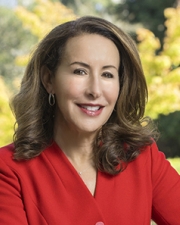 Jennifer Chatman
Title
Associate Dean for Academic Affairs | Paul J. Cortese Distinguished Professor of Management
Research Expertise and Interest
innovation
,
leading change
,
leveraging organizational culture
,
leadership assessment
,
team diversity
,
narcissistic leaders
Research Description
Jennifer Chatman studies organizational culture and how culture influences individual and firm behavior and performance. Her recent research has, for example, examined the largest publicly-traded high technology firms. Her research assess the extent to which their culture emphasizes innovation and relate that to bottom line firm performance over time. She also studies group composition and group norms focusing specifically on group demography. In one recent study, she shows how group dynamics influences whether climbers in Himalayan expeditions summit their target mountain or die trying.  Finally, she studies narcissistic leaders and the damage they cause to the organizations they lead.
In the News
May 2, 2022
Some states are seeking to ban school discussion and books that feature LGBTQ issues. Texas is targeting doctors and parents who provide gender-affirming medical care to transgender teenagers. Florida has gone to war against Disney World, after Disney publicly opposed the state's so-called "Don't Say Gay" law.
December 7, 2020
More than a month has passed since the fiercely contested U.S. presidential election, and the nation's institutions are moving day-by-day toward acceptance of the outcome that made Democrat Joe Biden the winner over incumbent Republican Donald Trump. But Trump is neither conceding nor moving on — and, it appears, the same is true for millions of his supporters.
November 4, 2020
UC Berkeley scholars awoke Wednesday, Nov. 4 to signs of a deeply divided U.S. electorate, and no blue wave on the horizon. Despite a surge in early voting, ballots were still being counted in several battleground states. As of noon that day, the race between President Donald Trump and his Democratic challenger Joe Biden remained too close to call.