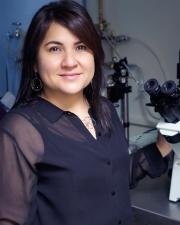 Diana Bautista
Title
Professor of Cell and Developmental Biology
Department
Dept of Molecular & Cell Biology
Helen Wills Neuroscience Institute
Research Expertise and Interest
ion channels
,
sensory physiology
,
chemosensation
,
touch
,
thermosensation
,
somatosensory system
,
itch
Research Description
Humans rely on the sensations of itch, touch and pain for a broad range of essential behaviors. For example, acute pain acts as a warning signal that alerts us to noxious mechanical, chemical and thermal stimuli, which are potentially tissue damaging. Likewise, itch sensations trigger reflexes that may protect us from disease-carrying insects. In addition, during inflammation or injury, we experience a heightened sensitivity to touch that encourages us to protect the injured site. Despite these essential protective functions, itch and pain can outlast their usefulness and become chronic. In mammals, these sensations are mediated by specialized subsets of somatosensory neurons that innervate the skin and viscera. Non-excitable cells, such as keratinocytes and immune cells, also work in conjunction with somatosensory neurons to promote acute and chronic inflammatory pain and itch.
My lab aims to identify the mechanisms by which neurons, immune cells and epithelial cells detect itch, pain and tactile stimuli, under normal and pathophysiological conditions. We use a combination of cellular physiology, molecular biology, molecular genetics and behavioral studies to probe the cellular and molecular mechanisms that mediate itch, touch and pain.