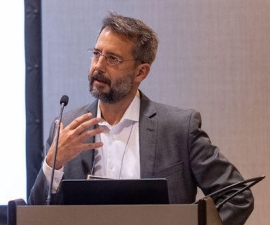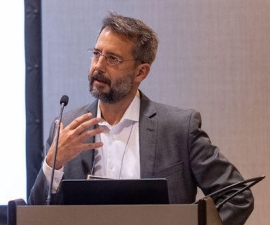 Research Expertise and Interest
US, the Americas, International History, nineteenth century, Native American history, American West, Borderlands
Research Description
Brian DeLay is an Associate Professor, and the Preston Hotchkis Chair in the History of the United States. He is a scholar of 18th- and 19th-century North America, specializing in transnational, borderlands, and Native American histories. Most of his writing explores connections between U.S., Latin American, and Indigenous histories in order to better understand power and inequality in the Western Hemisphere.
His first book, War of a Thousand Deserts: Indian Raids and the U.S.-Mexican War(link is external) (Yale University Press), recovers the forgotten, transnational story of how Comanches, Kiowas, Apaches, Navajos and other Indigenous peoples shaped the transformative era of the U.S.-Mexican War. War of a Thousand Deserts won best book prizes from the Latin American Studies Association, the Western History Association, and the Society for Historians of the Early American Republic, and was a finalist for the Francis Parkman Prize.  He is the editor of North American Borderlands(link is external) (Routledge), and co-author of the U.S. history textbooks Experience History(link is external) and U.S./A Narrative History(link is external)' (McGraw-Hill).
He has published articles, book chapters, and essays on variety of subjects. He has argued that historians of foreign relations should center Indigenous polities in histories of international relations and empire(link is external) in 19th-century North America, and that, for most of the century, relations between Native nations dominated the continent's international system(link is external). Other topics he has explored in his writing include the transnational context of John Singleton Copley's famous painting Watson and the Shark; discourses of belonging and patterns of conflict between Navajos and New Mexicans; continuities in the violence of borderland Mexico's 21st-century drug war and the borderland violence of the 19th-century; the reaction of the United States to the French intervention in Mexico; white supremacy and the Second Amendment; and the dependence of the arms industry on the U.S. government and its taxpayers.
He is now working on three interconnected projects about the history of the international arms trade. The first is a book called Aim at Empire: American Revolutions through the Barrel of a Gun, 1750-1825. The book explains how the international arms trade made anticolonial rebellion a practical possibility in British North America; how arms dealers from the newly-independent United States equipped the Haitian Revolution and the Spanish American Wars for Independence; and how privileged control over war material empowered U.S. empire in the trans-Appalachian West. Aim at Empire will be published by W.W. Norton in 2024. The second project is another book under contract with W.W. Norton: Means of Destruction: Guns, Freedom, and Domination in the Americas before World War II. Advance material from Means of Destruction has appeared here(link is external), here(link is external), and here(link is external).  His work on both books has been funded by fellowships from the John Simon Guggenheim Foundation, the Stanford Humanities Center, the Harry Frank Guggenheim Foundation, and the American Council of Learned Societies.  
The third project-in-progress is a data project. For the past several years he has been working with a team of student researchers to quantify the global arms trade from the end of the Napoleonic Wars to the outbreak of World War I. The vast majority of firearms sold and used around the world in the long nineteenth-century originated with five major producers/exporters: Britain, France, Belgium, the United States, and Germany. The Project on Arms Trade History reconstructs the contours of the global arms trade in this era by extracting data from annual customs reports produced by these countries, counting everything from cannons to percussion caps. Once complete, PATH will be made publicly available as a website enabling scholars anywhere in the world to track the global movement of guns, ammunition, and artillery between 1814-1914 at multiple scales.
The United States has a tradition of regulating firearms in the name of public safety, one that stretches back to the early colonial era. Drawing on his understanding of that tradition, he has worked as a consultant on the history of gun technology and regulation for state and local authorities defending gun safety laws. This work has included serving as an expert witness and drafting declarations for Hanson v. District of Columbia, 22-cv-02256 (D.D.C.); Arnold v. Kate Brown et. al., No. 22CV41008 (Harney Cty. Cir. Ct.); Oregon Firearms Federation et al., v. Kate Brown et. al., 22-cv-01815 (D. Ore.); Barnett v. Raoul, et al., 23-cv-209 (S.D. Ill.); FFL-IL v. Pritzker, et al., 23-cv-141 (S.D. Ill.); Harrel v. Raoul, et al., 23-cv-141 (S.D. Ill.); Langley v. Kelly, et al., 23-cv-192 (S.D. Ill.); Herrera v. Raoul, et al., 23-cv-532 (N.D. Ill.); and Kenneally v. Raoul, et al., 23-cv-50039 (N.D. Ill.), all cases challenging limits on high-capacity magazines and/or assault weapons.
At Berkeley, he teaches classes on U.S., Latin American, and Native American history. In 2022-23, he will be teaching an undergraduate seminar on the Radicalism of American Revolutions, a lecture class on Encounter & Conquest in the Indigenous Americas; and a senior thesis seminar.