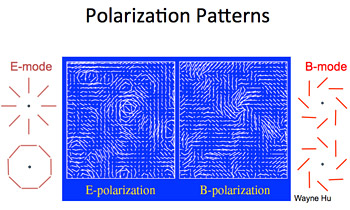 While E-mode polarization contains some information, B-mode polarization contains more, because photons carry this only if matter around the last point of scattering was unevenly or asymmetrically distributed. Specifically, the gravitational waves created during inflation squeezed space and imparted a B-mode polarization that BICEP2 may have detected. POLARBEAR, on the other hand, has detected B-modes that are produced by distortion of the E-modes by gravitational lensing.
While many scientists suspected that the gravitational-wave B-mode polarization might be too faint to detect easily, the BICEP2 team, led by astronomers at Harvard University's Center for Astrophysics, reported a large signal that fit predictions of gravitational waves. Current doubt about this result centers on whether or not the astronomers took into account the emission of dust from the galaxy that would alter the polarization pattern.
In addition, BICEP2's ability to measure inflation at smaller angular scales is contaminated by the gravitational lensing B-mode signal.
"POLARBEAR's strong suit is that it also has high angular resolution where we can image this lensing and subtract it out of the inflationary signal to clean it up," Lee said.
Two other papers describing related results from POLARBEAR were accepted in the spring by Physical Review Letters.
One of those papers is about correlating E-mode polarization with B-mode polarization, which "is the most sensitive channel to cosmology; that's how you can measure neutrino masses, how you might look for early behavior of dark energy," Lee said.
POLARBEAR is supported by the National Science Foundation and the Simons Foundation. The Simons Foundation provided additional funds last year for the consortium to expand from using one to three telescopes and to install improved detector arrays on each.
The POLARBEAR team includes co-principal investigators Brian Keating, associate professor of physics at UC San Diego, and Nils Halverson, associate professor of physics at the University of Colorado, Boulder; Masashi Hazumi, professor at the KEK lab in Japan; Radek Stompor, a director of research at the French National Center for Scientific Research (CNRS); William Holzapfel and Paul Richards, UC Berkeley professors of physics; and Julian Borrill, a senior scientist at LBNL; as well as researchers from Cardiff University, Católica University Chile (PUC), Dalhousie University, Imperial College, Kavli IPMU Japan, McGill University and SISSA Trieste.

RELATED INFORMATION