New Bakar Fellows director sees Berkeley's entrepreneurial spirit in faculty
UC Berkeley is known as No. 1 for producing serial entrepreneurs, and that fearless ethos doesn't drive only our students. It also drives our faculty, says Amy Herr, the new faculty director of the Bakar Fellows Program.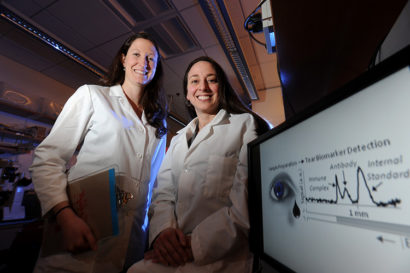 She views the program as like Big Ideas@Berkeley, but for faculty, supporting faculty-led research in science, technology, engineering, mathematics and related areas (STEM+) with the potential for positive impact through commercialization.
Bakar faculty fellows who found companies join an enduring network of experienced faculty-founder mentors for entrepreneurial Berkeley students, she said. And supporting STEM+ "tough-tech" endeavors can accelerate reduction to practice, which often takes years without focused support.
"Faculty want to share their work in meaningful ways," said Herr, the Lester John and Lynne Dewar Lloyd Distinguished Professor in Bioengineering. "This program allows faculty to explore commercialization – and mentoring of future entrepreneurs – as ways to do that."
As the Bakar Fellows Program again solicits faculty applicants, Herr is building on the program's success. To date, seven Bakar faculty fellows – from molecular and cell biology to architecture and engineering – have co-founded companies, with more on the way.
Herr was a fellow in the program's inaugural year, 2012. The program helped catalyze her startup, Zephyrus Biosciences, a life science tools company. Acquired by Bio-techne last year, the CEO and UC Berkeley Ph.D. Kelly (Karns) Gardner was named to MIT Technology Review's 2016 "35 Innovators under 35" list.
This year, the program will award five two-year Spark Fund research grants of up to $75,000 per year for STEM+ research.
Beginning in 2019, faculty alumni of the Spark Fund who successfully commercialize research outcomes are eligible to apply for the Bakar Innovation Incentive Prize of up to $300,000 to "pivot" their research program in new directions.
For more about the Bakar Fellows Program and how to apply for the 2017 Spark Fund, link to its website.