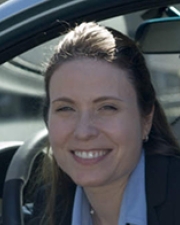 Susan Shaheen
Title
Professor In-Residence
Department
Dept of Civil and Environmental Engineering
Research Expertise and Interest
policy analysis
,
behavioral research
,
transportation
,
energy/environment
,
mobility and sharing economy
,
ITS (smartphone apps
,
automated vehicles)
,
alternative fuels
,
and mobility for special populations (accessibility)
Research Description
Susan's interest in environmentally- and socially-beneficial technology applications led her to focus her doctoral dissertation on "smart" carsharing, linked to public transit in the mid-1990s. She designed and tested the CarLink I and II pilot programs, using advanced technologies to support commuter carsharing services from 1997 to 2002. Her research projects at UC Berkeley's Institute of Transportation Studies explore innovative mobility technologies and services that could improve transportation options, while reducing their negative societal and environmental impacts. This research contributes critical data and analysis to help mobility providers give consumers optimal solutions to meet their transportation needs.
Innovative mobility strategies, through both technological advances and modifying people's travel patterns and behaviors, can be important tools for reducing energy consumption and creating a more sustainable transportation future. Methodological approaches include surveys, automated data collection and analysis, scenario planning, interviews/focus groups, and policy analysis (e.g., cost-effectiveness analysis). Her current research areas include: mobility and the sharing economy; alternative fuel vehicles; intelligent transportation systems (ITS), including automated vehicles and smartphone apps; public transit connections; and mobility for special populations. Her research group, Innovative Mobility Research (IMR), designs research projects and conducts evaluations throughout the State of California, the U.S., and internationally, with an emphasis on cutting-edge research and real-world implementation. IMR is housed at UC Berkeley's Transportation Sustainability Research Center (TSRC).
In the News
March 28, 2018
Peer-to-peer car sharing services have encouraged a small number of their members to ditch car ownership, according to a first-of-its-kind study of from the Transportation Sustainability Research Center.