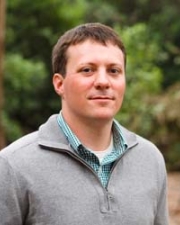 Stephen Brohawn
Title
Assistant Professor
Department
Dept of Molecular & Cell Biology
Helen Wills Neuroscience Institute
Research Expertise and Interest
neurobiology
,
Structural Biology
,
biophysics
Research Description
Sensation of environmental stimuli, thought, learning, memory, and other aspects of neuronal communication, hormone secretion and movement all rely on cellular electrical signals. The Brohawn Lab studies life's electrical system from a molecular and biophysical perspective. The focus of the laboratory is on ion channels, transporters and their regulatory complexes that form gated pathways for ionic traffic across cell membranes. We aim to discover how these membrane proteins work at a mechanistic level and what they do in a biological context. We utilize a range of approaches including structure determination by cryo-electron microscopy, electrophysiology, biophysics, biochemistry, pharmacology and imaging. Their goals are to understand the molecular basis of sensory transduction and electrical signaling and to lay the groundwork for development of new approaches to promoting health and treating disease.
In the News
June 23, 2021
The SARS-CoV-2 virus contains a gene that codes for a strange protein that could be a good target for drugs to fight COVID-19 and possibly other coronavirus infections, according to a new study from the University of California, Berkeley.
May 19, 2020
Thanks to a rapid funding program thrown together by wealthy entrepreneurs barely six weeks ago, seven COVID-19 research projects at the University of California, Berkeley, are getting an infusion of cash — $2.2 million in all — that could turn up new diagnostics and potential treatments for the infection within months.
February 12, 2020
Nine young faculty members at UC Berkeley have been awarded a Sloan Research Fellowship, an honor given yearly to the brightest up-and-coming scientists in the United States and Canada.