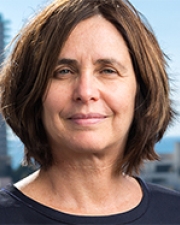 Shafi Goldwasser
Title
Professor; Director of the Simons Institute for the Theory of Computing
Department
Division of Computer Science/EECS
Research Expertise and Interest
cryptography
,
computational number theory
,
complexity theory
,
fault tolerant distributed computing
,
probabilistic proof systems
,
approximation algorithms
,
theory(THY)
In the News
August 10, 2020
The Simons Foundation has ensured a second decade of research and innovation for the Simons Institute for the Theory of Computing, based at UC Berkeley, through a $35.5 million grant. The grant, which will begin in 2022, after the conclusion of the Simons Institute's first 10 years, will support the Simons Institute's mission and activities through June 2032.
May 13, 2020
As plans for re-opening businesses, communities and schools emerge, it becomes increasingly important to better understand how many people are being infected and dying from COVID-19, and where and how the new coronavirus is transmitted.