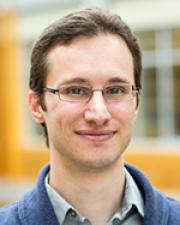 Sergey Levine
Title
Assistant Professor
Department
Division of Computer Science/EECS
Research Expertise and Interest
artificial intelligence
,
intelligent systems and robotics
Research Description
Sergey Levine received a BS and MS in Computer Science from Stanford University in 2009, and a Ph.D. in Computer Science from Stanford University in 2014. He joined the faculty of the Department of Electrical Engineering and Computer Sciences at UC Berkeley in fall 2016. His work focuses on machine learning for decision making and control, with an emphasis on deep learning and reinforcement learning algorithms. Applications of his work include autonomous robots and vehicles, as well as computer vision and graphics. His research includes developing algorithms for end-to-end training of deep neural network policies that combine perception and control, scalable algorithms for inverse reinforcement learning, deep reinforcement learning algorithms, and more.
In the News
April 14, 2020
When children play with toys, they learn about the world around them — and today's robots aren't all that different. At UC Berkeley's Robot Learning Lab, groups of robots are working to master the same kinds of tasks that kids do: placing wood blocks in the correct slot of a shape-sorting cube, connecting one plastic Lego brick to another, attaching stray parts to a toy airplane.
February 20, 2019
Seven assistant professors from the fields of astronomy, biology, computer science, economics and statistics have been named 2019 Sloan Research Fellows. They are among 126 scholars from the United States and Canada whose early-career achievements mark them as being among today's very best scientific minds. Winners receive $70,000 over the course of two years toward a research project.