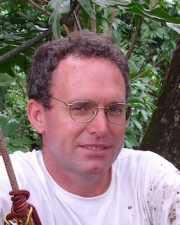 Robert Dudley
Department
Dept of Integrative Biology
Research Expertise and Interest
metabolism
,
biomechanics
,
butterflies
,
energetics
,
flight
,
gliding
,
hummingbirds
,
insects
,
paleophysiology
Research Description
Robert Dudley's research focuses on the biomechanics, energetics, and evolution of animal flight, particularly in insects and hummingbirds. Flight mechanisms are investigated with high-speed three-dimensional videography, metabolic measurements, and experimental manipulations using physically-variable gas mixtures. One current interest is to describe hummingbird flight maneuverability and the dynamic regulation of three-dimensional force vectors. Laboratory studies of flight biomechanics are complemented by fieldwork at varied sites around the planet, focusing particularly on the ecophysiology of butterfly migrations in Panama and the biomechanical correlates of erratic flight paths.
Additional projects include the evolution of gliding in Southeast Asian flying lizards and Neotropical ants, hummingbird flight performance across elevational gradients in Peru, and the paleophysiology of arthropod gigantism. Research students are encouraged to ask idiosyncratic biomechanical and ecophysiological questions to which a diversity of technological and phylogenetic approaches available in the lab may be applied.