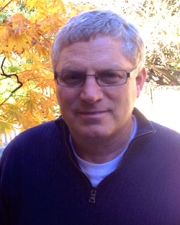 Richard H. Kramer
Title
Professor of Neurobiology
Department
Dept of Molecular & Cell Biology
Research Expertise and Interest
cells
,
synaptic transmission
,
chemical signaling between neurons
,
ion channels
,
electrical signals
,
chemical reagents
,
synapses
Research Description
Nerve cells communicate using electrical and chemical signals. We use a combination of molecular, optical, and electrophysiological methods to study ion channels, the proteins that generate electrical signals, and synaptic transmission, the process that allows a neuron to communicate chemically with other cells. Many of our most recent studies utilize novel chemical reagents, designed to manipulate or monitor the function of ion channels and synapses.
Current Projects
Optical studies of synaptic transmission in the retina. Rod and cone photoreceptors of the retina transmit information to other neurons through specialized structures called ribbon synapses. Unlike most synapses, ribbon synapses continuously release neurotransmitter, with the sensory stimulus (light) causing a decrease in the rate of release. We are using lipophilic fluorescence dyes, along with 2-photon, confocal, and electron microscopy, to track the life cycle of synaptic vesicles in photoreceptor terminals. This process starts with endocytosis, includes interactions with the synaptic ribbon, and ends with exocytosis. We are also examining how physiological stimuli, including light and synaptic feedback from other retinal neurons, regulate exocytosis from rods and cones. The use of activity-dependent dyes to stain synaptic vesicles allows us to examine not only individual synapses, but also the behavior of 2-dimensional arrays of synapses while we project visual images on the retina.
Constructing "light-activated" ion channels. Neurons have ion channels which are regulated by voltage, chemical transmitters, and mechanical forces. We are trying to engineer the first ion channel that can be directly activated with light. An ion channel protein is coupled through an introduced cysteine to a specially designed light-sensitive molecule that contains a tetraethylammonium group (TEA), which blocks the pore of the channel. The extended form (trans) of the molecule is long enough to allow the TEA to reach the pore, but after photoisomerization the bent form (cis) is too short. Different wavelengths switch the molecule back and forth between cis and trans, so both channel opening and closing should be controllable with light. Expression of these channels in neurons will allow their electrical activity to be regulated with flashes of light. Light-activated channels may have applications in neural computing and eventually serve as an alternative to invasive methods of neural stimulation in the intact nervous system.
Modulation of rod cyclic-nucleotide-gated (CNG) channels by growth factors and tyrosine phosphorylation. Photoreceptor light sensitivity is altered during light and dark adaptation, processes intrinsic to rods and cones. We are investigating a unique example of modulation by an extrinsic signal, namely growth factors released onto rods by neighboring pigment epithelial cells. Growth factor signal transduction often involves protein kinases and phosphatases specific for tyrosine residues. We find that insulin-like growth factor (IGF-1) induces changes in tyrosine phosphorylation, increasing the sensitivity of rod CNG channels and thus altering the light response. Ongoing studies are aimed at elucidating the biochemical cascade linking the IGF-1 receptor and the CNG channel and understanding how tyrosine phosphorylation triggers conformational changes that alter channel activity. Additional studies on transgenic animals will determine the consequences of growth factor effects on vision.
Patch cramming: monitoring intracellular cGMP in intact neurons. We have developed a simple method for monitoring cGMP in intact cells. We use a micropipette to obtain a membrane patch from a Xenopus oocyte expressing mutant CNG channels engineered to be sensitive and selective for cGMP. After calibrating its cGMP response, the pipette is "crammed" into a sufficiently large heterologous cell. Once inside, the activity of CNG channels in the patch reflects the cytoplasmic cGMP concentration. Suitable recipient cells include retinal horizontal cells, neuroblastoma cells, dorsal root ganglion cells, and cerebellar Purkinje cells. Using patch cramming we are obtaining the first glimpses of cGMP dynamics in response to neurotransmitters and other stimuli. In particular, we find that some transmitters trigger long-term suppression of cGMP, which is potentially important for synaptic plasticity.