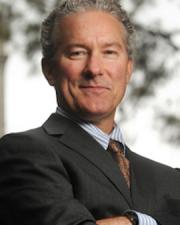 Rich Lyons
Title
Associate Vice Chancellor and Chief Innovation & Entrepreneurship Officer
Research Expertise and Interest
foreign exchange markets
,
culture
,
innovation
,
entrepreneurship
,
online education
,
and blockchains.
Research Description
Richard Lyons is Associate Vice Chancellor and Chief Innovation & Entrepreneurship Officer, and former Dean of Berkeley Haas.  He worked on exchange rates, but from a "micro" perspective rather than the traditional "macro" perspective. The micro approach uses data on transactions in currency markets to address how this market absorbs new information. It is both "information theoretic" and quite applied in that it addresses the phenomenon (price determination) at its source. His most recent work in this area is on stablecoins, which are cryptocurrencies pegged to other currencies like the US dollar or hard assets like gold. He is also writing more now on innovation and how cultures of innovation can be developed in companies and in geographic regions. 
In the News
September 28, 2020
UC Berkeley ranks nationally as the No. 1 public and second-best university in the world overall for undergraduate programs that produce entrepreneurs who go on to obtain venture funding, according to PitchBook's 2020 university rankings.
July 1, 2020
The instructors of a new UC Berkeley course have set an ambitious goal: changing the world, one student at a time. "The Berkeley Changemaker: A Discovery Experience" is a three-week class offered this summer to first-year undergraduates to help them identify their passions and leverage their leadership traits to transform Berkeley and the world, for the better.
July 10, 2019
Professor Richard K. Lyons is UC Berkeley's first-ever Chief Innovation and Entrepreneurship Officer (CIEO).