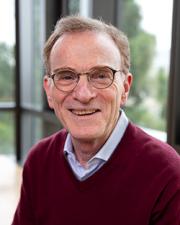 Randy Schekman
Title
Howard Hughes Institute Investigator and Professor of Cell and Developmental Biology; 2013 Nobel Laureate in Physiology or Medicine
Department
Dept of Molecular & Cell Biology
Research Expertise and Interest
saccharomyces cerevisiae
,
organelle assembly
,
intracellular protein transport
,
assembly of cellular organelles
,
Alzheimer's Disease
Research Description
Schekman Labs' research is devoted to a molecular description of the process of membrane assembly and vesicular traffic in eukaryotic cells. Basic principles that emerged from these studies in yeast are now being applied to studies of genetic diseases of protein transport.
A combination of genetic and cytologic evaluation of the secretion (sec) mutants has allowed a description of the secretory pathway in Saccharomyces cerevisiae. Protein transport in yeast appears to be mediated by the same organelles and proteins that operate in mammalian cells. Molecular cloning analysis of SECgenes revealed striking structural and functional homology with corresponding mammalian genes.