Schekman receives Nobel Medal in Stockholm ceremony
Newly minted Nobel Laureate Randy Schekman used his Nobel acceptance speech yesterday (Dec. 10) in Stockholm to encourage more support for basic research, the "freedom of inquiry (that) nourished the careers of today's Laureates," he said.
Schekman delivered his brief remarks at the lavish Nobel banquet as he accepted the 2013 Nobel Prize in Medicine or Physiology on behalf of his two co-winners: Thomas Südhof of Stanford University and James Rothman of Yale University.
Since the prize was announced Oct. 7, Schekman has used the spotlight to push for increased funding of basic research – the wellspring of his own seminal discoveries in yeast – and of public universities, which were underrepresented in this year's American Nobel lineup. Of the nine American Nobelists, Schekman was the only one from a public institution.
"I wish particularly to acknowledge the Nobel Foundation for its recognition of basic science," he said. "This year's Laureates in the natural sciences reflect the value of curiosity-driven inquiry, unfettered by top-down management of goals and methods."
Schekman was referring to the increasing desire of U.S. funding agencies "to want to manage discovery with expansive so-called strategic science initiatives at the expense of the individual creative exercise we celebrate today."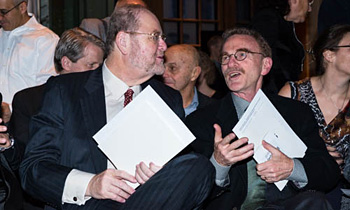 The banquet was the crowning event of a week-long series of celebrations honoring the new Nobelists, during which Schekman delivered a lengthier speech on Dec. 7 about his research on yeast secretion. This work, which Schekman pursued purely out of curiousity, turned out to be critical to the success of the biotechnology industry.
Schekman traveled to Stockholm with his wife, Nancy Walls, their son and daughter and his father. During his banquet acceptance speech, he expressed appreciation for a broad range of friends and colleagues.
"I view this occasion as one of the great moments of my life, one that I am thrilled to share with my wife and children, my father, and family, friends, colleagues and the students of mine who made this day possible," he said.
MORE INFORMATION