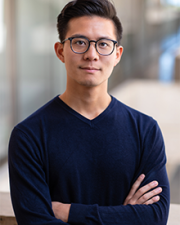 Patrick Hsu
Title
Assistant Professor
Research Expertise and Interest
postmitotic genome
,
therapeutic macromolecule delivery
,
human neuroscience
Research Description
The Hsu Lab aims to understand and manipulate the genetic circuits that control brain and immune cell function to improve human health. They explore the rich biological diversity of nature to create new molecular technologies, perturb complex cellular processes at scale, and develop next-generation gene and cell therapies. To do this, their group draws from a palette of experimental and computational techniques including CRISPR-Cas systems, single cell genomics, engineered viruses, brain organoids, and pooled genetic screens. 
Current interests include 1) inventing novel approaches for editing the postmitotic genome, 2) developing engineered vehicles for therapeutic macromolecule delivery, and 3) leveraging library screens and brain organoids to interrogate human neuroscience at scale.
In the News
August 5, 2021
Frequent, rapid testing for COVID-19 is critical to controlling the spread of outbreaks, especially as new, more transmissible variants emerge. A research team at the UC, Berkeley is aiming to develop a diagnostic test that is much faster and easier to deploy than the gold standard qRT-PCR diagnostic test. The team has now combined two different types of CRISPR enzymes to create an assay that can detect small amounts of viral RNA in less than an hour.
May 19, 2020
Thanks to a rapid funding program thrown together by wealthy entrepreneurs barely six weeks ago, seven COVID-19 research projects at the University of California, Berkeley, are getting an infusion of cash — $2.2 million in all — that could turn up new diagnostics and potential treatments for the infection within months.
April 27, 2020
As the United States and much of the world move toward relaxing shelter-in-place restrictions to let people move about more freely, public health experts hope to rely on antibody tests to determine who has been infected with the COVID-19 virus and may be immune — at least temporarily — and who is still susceptible.