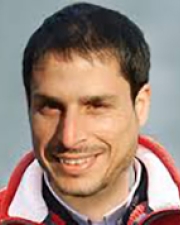 Nir Yosef
Title
Assistant Professor
Department
Division of Computer Science/EECS
Research Expertise and Interest
Research Description
The overarching goal of my research is to utilize high-throughput genomic data sets, mostly based on DNA sequencing, in order to build models that explain how gene expression is regulated. I have special interest in immune cells, covering various aspects of their biology, such as their differentiation, stability / plasticity, and response to acute stimulation.
In the News
February 8, 2017
Thirteen UC Berkeley faculty have been chosen by the Chan Zuckerberg Biohub to receive up to $1.5 million each over the next five years to conduct cutting-edge biomedical research — with no strings attached.
February 23, 2016
Eight UC Berkeley assistant professors are among 126 new fellows announced today by the Alfred P. Sloan Foundation. The Sloan Research Fellowships, awarded annually since 1955, honor early-career scientists and scholars.
September 30, 2014
The National Institutes of Health today announced its first research grants through President Barack Obama's BRAIN Initiative, including three awards to the University of California, Berkeley, totaling nearly $7.2 million over three years.