CZ Biohub awards nearly $14.5 million to Berkeley researchers
Thirteen UC Berkeley faculty, seven of them women, are among 47 new investigators chosen by the Chan Zuckerberg Biohub to receive up to $1.5 million each over the next five years to conduct cutting-edge biomedical research — with no strings attached.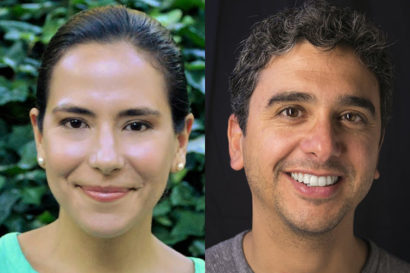 The investigator awards are the first individual grants by the CZ Biohub as it seeks to foster unconventional scientific exploration and encourage researchers to invent new tools to accelerate the pace of discovery.
The CZ Biohub was established in September 2016 with $600 million over 10 years from Facebook founder and CEO Mark Zuckerberg and his wife, pediatrician Priscilla Chan, and operates as an independent nonprofit medical research organization collaborating with UC Berkeley, Stanford University and UC San Francisco to fund research. Its goal is to harness science, technology and human capacity to cure, prevent or manage all disease during our children's lifetime.
"CZ Biohub investigators share our vision of a planet without disease," said Joseph DeRisi, co-president of CZ Biohub and a professor of biochemistry and biophysics at UCSF. "To realize this vision, we are giving some of the world's most creative and brilliant researchers access to groundbreaking technology and the freedom to pursue high-risk research. CZ Biohub investigators will challenge traditional thinking in pursuit of radical discoveries that will make even the most stubborn and deadly diseases treatable."
Six of UC Berkeley's new investigators are senior faculty. Each will receive $1.5 million over five years to pursue their research, with the freedom to change direction if they desire — an option not allowed by most research grants.
The seven other investigators are younger faculty, and will receive half the amount, $750,000 over five years, with a similar flexibility.
"The CZ Biohub has chosen some of Berkeley's best and most innovative researchers, who offer an amazing breadth of expertise," said UC Berkeley Chancellor Nicholas Dirks. "This first cohort of investigators illustrates the potential and promise of the CZ Biohub to push the boundaries of biomedical research, and to accelerate the development of breakthrough scientific and medical advancements, applications and therapeutics for the public's benefit."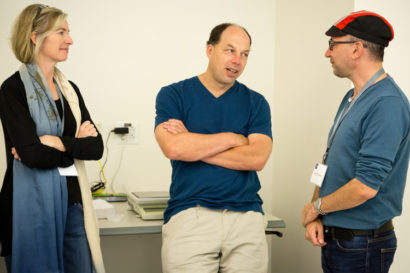 Markita del Carpio Landry, a biophysicist who was appointed an assistant professor of chemical and biomolecular engineering last June, was thrilled to hear she had been selected for what would be considered high-risk, high-reward research. She plans to develop a microscopy system to image brain neurochemistry, which is a bottleneck for the study of psychiatric disorders including depression, addiction, schizophrenia and anxiety. The system would involve new nano-scale biosensors and the development of an entirely new form of microscopy using low-energy, near-infrared radiation, which can penetrate the skull and outer layers of the brain and possibly enable non-invasive recording of changing neurotransmitter concentrations in the living brain.
"My research is at a point where I can move forward and develop biosensors to image neurotransmitters, providing the diagnostics that have lagged behind our ability to develop and validate drugs to treat psychiatric disorders," she said. "The work will contribute to our knowledge of brain chemistry, which is hard to study with today's tools."
"I am humbled and speechless," said Michel Maharbiz, one of the new senior investigators and a professor of electrical engineering and computer sciences, when he found out about the award. "This is an ambitious endeavor and I can't wait to get started and be part of it. I really do believe we, collectively, can make a big impact on diseases over the next decade, and I'm really excited to be a part of this."
The 47 investigator awards, totaling $54 million over five years, also go to 15 faculty at UCSF and 19 at Stanford. They will complement the CZ Biohub's large-scale collaborative projects, including the Infectious Disease Initiative and the Cell Atlas.
"The 47 CZ Biohub investigators we're introducing today are quite literally inventing the future of life science research," said Stephen Quake, co-president of CZ Biohub and a professor of bioengineering and applied physics at Stanford. "The CZ Biohub is distinguished by our emphasis on technology and engineering, and our researchers are inventing tools to accelerate science for the good of humanity."
UC Berkeley's senior investigators are:

Jill Banfield, a professor of earth and planetary science and of environmental science, policy and management, explores the medical, industrial and ecological significance of newly found microorganisms. Her previous work has uncovered a vast diversity of microorganisms that depend on coexisting microbial community members for most core metabolic resources, revealing two major evolutionary radiations, one in bacteria and the other in Archaea.
Daniel Fletcher, the Purnendu Chatterjee Chair in Engineering Biological Systems in the Department of Bioengineering, will launch a new effort to map the topography and spatial organization of cell-cell surfaces, starting with macrophages in their interactions with tumor cells. This comes out of his studies of how cells assemble molecular-scale parts into micron-scale structures necessary for cell motility, cell-cell signaling and host-pathogen interactions.
Amy Herr, the Lester John and Lynne Dewar Lloyd Distinguished Professor of Bioengineering, designs, develops and disseminates tools to quantify biological complexity, from the level of biomolecules to tissues, using novel engineering approaches. She is focusing on protein cytometry, as exemplified by single-cell electrophoresis, followed by antibody probing, to simultaneously achieve high specificity and high sensitivity.
Michel Maharbiz, a professor of electrical engineering and computer sciences, explores the ways that miniaturized technology and biology can be threaded together to create novel clinical devices that interface with the human body and provide real-time information about molecular and physiological states. He invented neural dust as a general platform for reading and writing data to tiny implants that are activated by ultrasound.
Yun Song, a professor of electrical engineering and computer sciences and of statistics and of integrative biology, has derived novel mathematical formulas and new analytical techniques for inferring demographic history from population genetic data and for increasing the power of genome-wide natural selection scans. He is using new probabilistic models to elucidate the dynamics of protein initiation and elongation on ribosomes, and has recently moved into computational immunology.
Laura Waller, an associate professor of electrical engineering and computer sciences, is developing simple and inexpensive microscopes that can image previously inaccessible information using computational microscopy, the joint design of imaging system hardware and software. She is now working on the challenging problem of 3D imaging in scattering media, such as deep structures of the brain, essential for unraveling neural activity.
The new junior investigators are:
Markita del Carpio Landry, an assistant professor of chemical and biomolecular engineerig, is developing new nanosensor technology and near-infrared imaging platforms to visualize neurotransmitters in the living brain at high spatial and temporal resolution. She will focus on deep brain imaging of dopamine as an initial step in furthering our understanding of psychiatric disorders.
Rikky Muller, an assistant professor of electrical engineering and computer sciences, is developing new wireless microsystems that directly interface with the brain for long-term, minimally invasive neurological recording. Her broad goal is to engineer novel implants that can simultaneously sense and alter physiological responses to enable drug delivery and the treatment of neuropsychiatric disorders.
Kimberly Seed, an assistant professor of plant and microbial biology, carries out epidemiologic studies of the interactions between bacteriophages and Vibrio cholera, some strains of which cause cholera, in samples obtained from cholera outbreaks to enhance understanding of how these viruses shape the communities of these pathogens and affect infectivity. She will also determine how microclimates impact phage-host interactions.
Aaron Streets, an assistant professor of bioengineering, plans to develop optical and microfluidic methods to carry out chemical and transcriptional profiling of single-cells in whole tissues with preservation of positional information. He will use stimulated Raman scattering microscopy for determining chemical composition and laser-assisted microfluidics for transcriptional profiling.
Ke Xu, the Chevron assistant professor of chemistry, is developing super-resolution microscopy methods with a resolution below 10 nanometers that are revealing new ordered structures, such as a periodic cytoskeleton in nerve axons. His next step is to obtain functional information from super-resolution microscopy by combining it with multicolor fluorescence spectroscopy.
Nir Yosef, an assistant professor of bioengineering, uses computational tools to understand how transcription is regulated in mammalian cells and to learn how changes in transcription are associated with different cell-states or diseases. He seeks to develop data-driven approaches for defining the key factors that contribute to cell-to-cell variability with a focus on the cellular diversity of the immune system.
Wenjun Zhang, an assistant professor of chemical and biomolecular engineering, is engineering the biosynthesis of natural products by exploiting novel enzymatic machinery for synthesizing many unique pharcophores and molecular scaffolds. She is developing a general platform for the in situ tagging of natural product mixtures to enable subsequent visualization by fluorescence imaging or stimulated Raman scattering microscopy.
RELATED INFORMATION