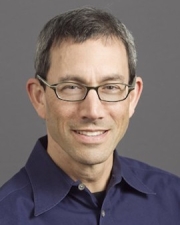 Krishna K. Niyogi
Title
Professor of Plant and Microbial Biology
Department
Department of Plant and Microbial Biology
Research Expertise and Interest
genetics
,
plant and microbial biology
,
algae
,
photosynthesis
,
antioxidants
Description
My long-term research goals are to understand how photosynthetic energy conversion works, how it is regulated, and how it might be improved to help meet the world's needs for food and fuel. My lab uses interdisciplinary approaches to investigate the biosynthesis and function of photosynthetic pigments and antioxidant vitamins, the mechanisms involved in sensing excess light, and the regulation of photosynthetic light harvesting in saturating light.
In the News
March 6, 2018
Crops possibly can be grown with significantly less water by altering a gene involved in regulating photosynthesis, according to new research.
February 23, 2012
Next week's ARPA-E Summit will feature several Berkeley Lab-led projects, all aimed at dramatically improving how the U.S. produces and uses energy. Among them is an effort to produce transportation fuel from tobacco.
June 16, 2011
Krishna Niyogi, professor of plant and microbial biology and an expert on photosynthesis, has been named an investigator with an ambitious plant science program sponsored by the Howard Hughes Medical Institute and the Gordon and Betty Moore Foundation. He is one of only 15 scientists nationwide to be chosen for this honor.