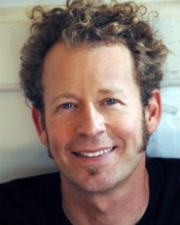 Ken Goldberg
Title
William S. Floyd Jr. Distinguished Chair in Engineering
Department
Dept of Art Practice
Dept of Industrial Engineering & Operations Research
Division of Computer Science/EECS
School of Information
Research Expertise and Interest
robotics
,
art
,
social media
,
new media
,
automation
Research Description
Ken Goldberg is an inventor working at the intersection of art, robotics, and social media. At UC Berkeley, Ken teaches and supervises research in Robotics, Automation, and New Media. Ken holds dual degrees in Electrical Engineering and Economics from the University of Pennsylvania (1984) and MS and PhD degrees from Carnegie Mellon University (1990). He joined the UC Berkeley faculty in 1995 where he is craigslist Distinguished Professor of New Media. He is a Professor of Industrial Engineering and Operations Research, with secondary appointments in Electrical Engineering/Computer Science and the School of Information. Ken also holds an appointment in the UC San Francisco Medical School where he pursues research in medical robotics.
Ken has published over 300 peer-reviewed technical papers on algorithms for robotics, automation, and social information filtering; his inventions have been awarded nine US Patents. He is co-founder and past Editor-in-Chief of the IEEE Transactions on Automation Science and Engineering (T-ASE), Co-Founder of the Berkeley Center for New Media, Co-Founder and Chief Scientist of Ambidextrous Robotics, Co-Founder of the Moxie Institute, and Founding Director of UC Berkeley's Art, Technology, and Culture Lecture Series.