Berkeley gears up for new era of enterprise with Skydeck incubator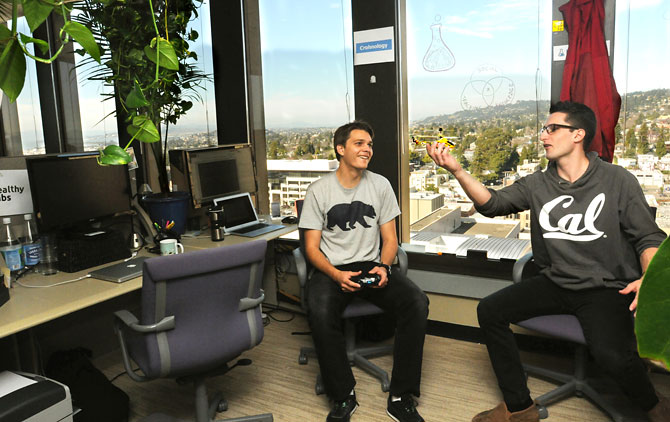 UC Berkeley faculty and alumni have a long tradition of translating research discoveries into some of the world's leading companies. From Apple, Intel and Sun Microsystems to Chiron, Amyris and Tesla Motors, Berkeley's research DNA runs through the heart of American enterprise.
The recent launch of the Skydeck startup incubator, which houses a mix of ventures co-founded by Berkeley faculty, students and alumni, heralds a dynamic campus effort to foster a new generation of young entrepreneurs and forge a hotbed of collaborative innovation and enterprise in the East Bay.
The first-of-its-kind campus initiative pools the resources and expertise of Berkeley's Haas School of Business, the College of Engineering, Lawrence Berkeley National Lab and the Office of the Vice Chancellor for Research in partnership with the city of Berkeley and local and regional leaders from the worlds of business, industry and finance.
Anchored in 10,000 square feet of premium office, conference and flexible event space in the heart of downtown Berkeley, the Skydeck incubator became fully operational in January.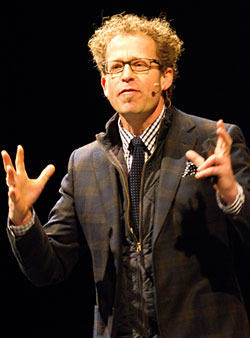 "Skydeck is a wonderful addition to the campus because it conveys that Berkeley values and supports the entrepreneurial effort to bring new ideas into the world," says Ken Goldberg, a Berkeley professor of industrial engineering and operations research. "That's a very powerful message across the board — for faculty, for students and for potential investors and partners in business and industry."
Goldberg co-founded the Skydeck startup Hybrid Wisdom Labs with several students, developing a patented collaborative-discovery engine. The technology offers corporate or government entities a real-time, scalable way to rapidly generate, aggregate, prioritize and analyze ideas, comments or suggestions created by a population of users, such as customers or employees.
"The equation has shifted dramatically for startups in the Facebook era and the barriers to entry are much lower today than in the past," Goldberg says. "With the access to the information and technology we have now, a couple of sophomores can come up with an idea over lunch, start coding after class and have a working prototype within 24 hours."
Take Berkeley alumnus Eliot Sun, who graduated with a bachelor's degree in mathematics and economics in 2010. Sun is CEO and co-founder of the startup Kloudless, which secured entry to the Skydeck program as a winner of the Lester Center for Entrepreneurship's startup accelerator competition.
"It's a highly collaborative environment, where everyone is happy to share insights and knowledge from their different experiences and backgrounds, which is really conducive to creativity and problem-solving," says Sun.
With Michael Cohen, Skydeck's acting executive director, coordinating day-to-day operations, the incubator initiative is underpinned by a core group of campus faculty and entrepreneurial veterans with market-specific expertise. The mentors help shepherd the teams through the initial startup phases to accelerate the growth of the fledgling companies.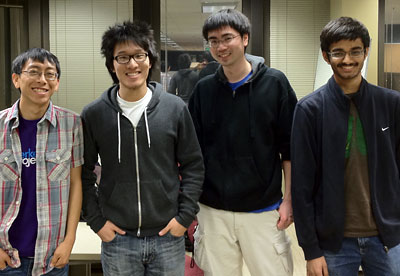 Kloudless is developing cloud indexing and management technology designed to make it easier for people to synchronize, search, retrieve and share files and email attachments that are scattered across an ever-growing array of devices and online media through a single portal.
"The program administrators have done an excellent job of understanding our needs and connecting us to mentors with the right expertise to help grow our venture from a product to a company," Sun says.
Under the program, startup teams can access an extensive network of industry connections for guidance on developing business models, attracting early-stage financing and other aspects of building a company, including product validation, intellectual property and patents, customer acquisition and capitalization.
Philip Chung, who graduated from a joint UCSF-Berkeley bioengineering program in December with a master's degree in translational medicine, is a co-founder and CEO of Intelligent Obstetrics.
The startup venture earned a place at Skydeck as a winner of Berkeley's Center for Entrepreneurship and Technology Venture Lab competition. Chung and the other members of the team, which includes UCSF faculty, are developing medical technologies to monitor and treat prenatal complications during high-risk pregnancies.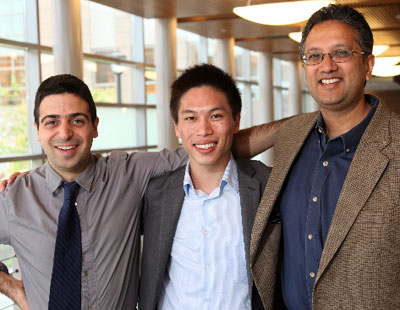 "The advisers and industry connections we've made through Skydeck and Venture Lab have been tremendously helpful in moving our project beyond academia and pushing the technology forward," says Chung.
The team's mobile-enabled monitoring device could reduce premature births by providing an early-warning system that would allow doctors to intervene prior to the onset of pre-term labor symptoms.
"At UCSF, we have the infrastructure for mechanical prototyping, hardware development and clinical testing, but we're leveraging the strengths of the Berkeley campus to build out the mobile, software and business side of the venture," Chung says.
In addition to Hybrid Wisdom Labs, Intelligent Obstetrics and Kloudless, the Skydeck incubator is home to Healthy Labs, Go Overseas, Building Robotics, GoMake.it, InSituGen and Picatcha. For more information on incubator and startup teams visit Skydeck.