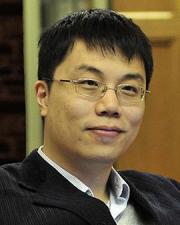 Ke Xu
Title
Associate Professor
Research Expertise and Interest
biophysical chemistry
,
cell biology at the nanoscale
,
super-resolution microscopy
,
single-molecule spectroscopy
Research Description
Prof. Xu and his research group develop new experimental tools to interrogate biological, chemical, and materials systems at the nanoscale with extraordinary resolution, sensitivity, and functionality. To achieve this, the group takes an interdisciplinary, multidimensional approach that integrates advanced microscopy, spectroscopy, cell biology, and nanotechnology. Recent developments include spectrally resolved and functional super-resolution microscopy, ultrahigh-throughput single-molecule spectroscopy, interference-based microscopy for 2D materials, and uncovering the nanoscale ultrastructure of the membrane cytoskeleton and intracellular vesicles.