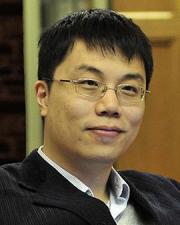 Ke Xu
Title
Assistant Professor
Research Expertise and Interest
biophysical chemistry
,
cell biology at the nanoscale
,
super-resolution microscopy
,
single-molecule spectroscopy
Research Description
As is the case when one axon and multiple dendrites form in a neuron, a high degree of internal structural order often emerges within a single cell. The establishment of such order is often a prerequisite for cells to carry out proper physiological functions. Our research aims at understanding how such subcellular order emerges through the interaction between biomolecules, and we achieve this goal experimentally through the development and integration of innovative biophysical and chemical methods that are capable of visualizing and manipulating cells with nanometer-scale precision. In particular, our recent work on super-resolution fluorescence microscopy just pushed the limit of optical resolution to below 10 nm (Nature Methods 9, 185), and this enabled the exciting discovery in axons of a periodic, actin-spectrin-based cytoskeleton that is highly ordered at the nanoscale (Science 339, 452).