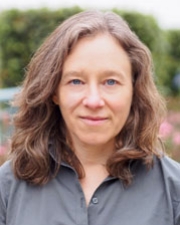 Kathleen Collins
Department
Dept of Molecular & Cell Biology
Research Expertise and Interest
RNA
,
reverse transcriptase
,
retroelement biology
,
gene integration
,
RNA sequencing
Research Description
Biology, biochemistry, and biotechnology of retroelements, retroelement reverse transcriptases, and functional RNAs.

We are applying our insights from decades of studying telomerase and telomere maintenance to investigate eukaryotic retroelements, their reverse transcriptases, and the biogenesis and RNP assembly of processed RNA used as template for nick-primed cDNA synthesis. Site-specific targeting of transgene cDNA insertion has promise as a genome engineering method complementary to CRISPR/Cas. Also, retroelement reverse transcriptases have fascinating biochemical properties that we are discovering and exploiting for RNA-seq. Our new approaches for cDNA library production capture comprehensive, end-to-end RNA sequence inventory of even fragmented or damaged RNAs.
In the News
April 23, 2020
Nine UC Berkeley faculty members from a wide range of disciplines have been elected to the American Academy of Arts and Sciences (AAAS), a 240-year-old organization honoring the country's most accomplished artists, scholars, scientists and leaders.
April 25, 2018
While neither telomerase-based anti-aging drugs, touted as a "fountain of youth," nor anticancer drugs have yet appeared, the publication today of the first detailed picture of the molecular structure of human telomerase should jump-start that effort.
January 31, 2017
Bakar Fellow Kathy Collins develops techniques to capture genetic information embedded in cancer cells' RNA — a new tool to improve cancer diagnosis and treatment.