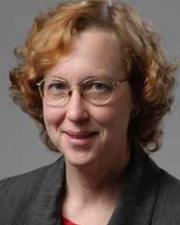 Katherine A. Yelick
Department
Division of Computer Science/EECS
Research Expertise and Interest
parallel computing
,
memory hierarchy optimizations
,
programming languages and compilers
Research Description
Katherine (Kathy) Yelick is a Professor of Electrical Engineering and Computer Sciences at UC Berkeley and the Associate Laboratory Director (ALD) for Computing Sciences at Lawrence Berkeley National Laboratory. Her research is in high performance computing, programming languages, compilers, parallel algorithms, and automatic performance tuning. She currently leads the Berkeley UPC project and co-lead the Berkeley Benchmarking and Optimization (Bebop) group. As ALD for Computing Sciences at LBNL, she oversees the National Energy Research Scientific Computing Center (NERSC), the Energy Sciences Network (ESnet) and the Computational Research Division (CRD), which covers applied math, computer science, data science and computational science.
In the News
November 18, 2019
Katherine Yelick, the associate laboratory director for Computing Sciences at the U.S. Department of Energy's Lawrence Berkeley National Laboratory (Berkeley Lab) and professor of electrical engineering and computer sciences at UC Berkeley, has been honored by HPCwire as their Editor's Choice for Outstanding Leadership in HPC.
November 27, 2018
Three senior UC Berkeley faculty members have been elected fellows of the American Association for the Advancement of Science, the nation's largest scientific organization: Allen Goldstein, Sung-Hou Kim and Katherine Yelick.
February 13, 2017
Three UC Berkeley professors are among 11 University of California researchers elected to the National Academy of Engineering, among the highest honors in the profession.