Kathy Yelick named UC Berkeley's New Vice Chancellor for Research
Computer scientist Kathy Yelick, an active scholar, teacher and leader on campus and at Lawrence Berkeley National Laboratory for the past 30 years, has been named UC Berkeley's next Vice Chancellor for Research, Chancellor Carol Christ announced today. Her appointment will begin on January 1, 2022.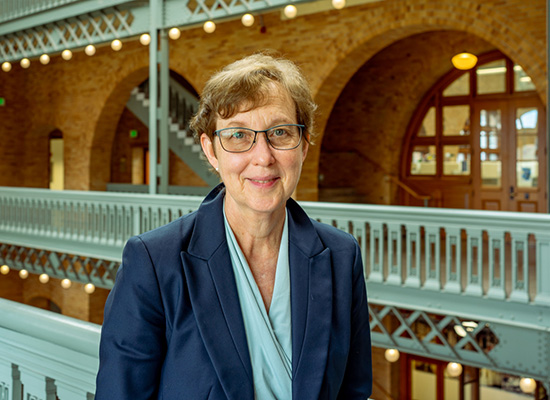 The Robert S. Pepper Distinguished Professor of Electrical Engineering and Computer Sciences, Kathy is also currently the executive associate dean of the Division of Computing, Data Science and Society, charged with fostering a robust research environment across the division. She is also a senior faculty scientist at Lawrence Berkeley National Laboratory. 
Kathy brings to this role a unique combination of leadership experience and institutional knowledge. She received her bachelor's, master's, and doctoral degrees in computer science from the Massachusetts Institute of Technology. 
As a scientist, Kathy's research contributions have transformed the fundamental understanding and practice of parallel computing. She has over 180 peer-reviewed publications, reports, and book chapters, and her expertise extends through automatic performance tuning, performance analysis, parallel algorithms and optimizing compilers. A co-inventor of two computing programming languages, Kathy's interdisciplinary research also extends through chemistry, fusion energy, medicine and genomics. She helped provide intellectual leadership to create the national initiative in exascale computing and today is among the leading group of computer scientists working to bring exascale computing to domain science applications. Kathy is also a strong advocate for and personal contributor to education outreach at the high school and university levels, encouraging women and other underrepresented groups to enter into scientific careers.
Kathy first joined UC Berkeley in 1991 and held senior scientist and management roles for 11 years at Lawrence Berkeley National Laboratory, including serving as associate laboratory director for computing sciences and leading the National Energy Research Scientific Computing Center, before being recruited back to campus in 2020. In her capacity as associate lab director, Kathy helped lead the development of Shyh Wang Hall and helped to establish new programs in exascale computing, machine learning, and quantum information science. A member of the National Academy of Engineering and the American Academy of Arts and Sciences, Kathy is also a Fellow of both the Association for Computing Machinery and the American Association for the Advancement of Science. Her leadership experience combined with her 30 years as a Berkeley faculty member make her well positioned to take on this role.
Kathy is a proven leader with a passion for UC Berkeley and for advancing cutting-edge research. Her deep experience in managing a large and diverse portfolio, nurturing talent, and expanding a highly complex advanced research infrastructure will be a great asset to our senior leadership team. You can read more about Kathy on Berkeley News.
Kathy will succeed Randy Katz, who announced his retirement earlier this year.