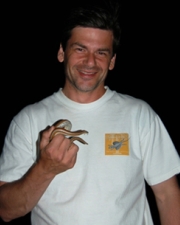 Jimmy A. McGuire
Title
Professor of Integrative Biology
Department
Dept of Integrative Biology
Research Expertise and Interest
historical biogeography
,
evolutionary biology
,
Southeast Asia
,
population genetics
,
hummingbirds
,
functional morphology
,
vertebrate systematics
,
phylogenetic analysis
,
life history evolution
,
Bayesian methods
,
Southeast Asian flying lizards
Research Description
Research in the McGuire Lab seeks to connect four fundamental features of the evolution of organismal diversity: (1) lineage diversification, (2) historical biogeography, and the influence of (3) morphological and (4) molecular evolution on organismal performance. These studies primarily involve reptiles, amphibians, and hummingbirds. Although there are a number of approaches that one may utilize in order to gain insight into the process of lineage and adaptive diversification, our research is firmly rooted in phylogenetic systematics and population genetics, which serve as the foundation for the comparative analysis of physiological and organismal performance data. Our approach to studying lineage diversification generally involves applying a combination of phylogenetic/phylogenomic and population demographic analyses as we are interested not just in timing of branching relationships but also in the fate of lineages that have only recently diverged or have recently come back into secondary contact and may therefore be experiencing gene flow or full-blown merger.
Our research is collections-based and we consequently perform extensive fieldwork in support of this research. Although Jim's field program is currently focused on the Indonesian island of Sulawesi, his work in recent years has also taken him on multiple expeditions to Indonesia's Lesser Sunda Islands, Sumatra, and the Mentawai Archipelago. Members of the lab have also conducted recent fieldwork in Indonesia's Maluku and West Papua Provinces, México, in multiple African countries, and in Australia (as well as in the western United States).
In the News
December 31, 2014
Amid the amazing biodiversity of the Indonesian island of Sulawesi lives a 5-gram frog that gives direct birth to tadpoles, without ever laying eggs. 
April 3, 2014
A newly constructed family tree of the hummingbirds, published today in the journal Current Biology, tells a story of a unique group of birds that originated in Europe.