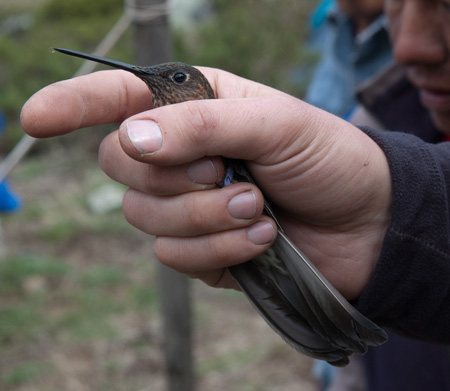 One unanswered question, he said, is how hummingbirds got a toehold in South America at all, since today they are dependent on plants that coevolved with them and developed unique feeding adaptations.
"It is really difficult to imagine how it started, since hummingbirds are involved in this coevolutionary process with plants that has led to specializations we typically associate with hummingbird plants, such as tubular, often red flowers, with dilute nectar," he said. "They drive the evolution of their own ecosystem. The evolution of hummingbirds has profoundly affected the evolution of the New World flora via codiversification."
McGuire hopes to continue hummingbird studies with his colleagues, exploring how they've adapted to a diverse variety of ecological niches and, in particular, how they tolerate reduced oxygen availability at high elevations.
"Everything about hummingbirds is extreme," said McGuire, who initiated work on the current phylogenetic analysis as an assistant professor at Louisiana State University before joining the UC Berkeley faculty in 2003. "They have this incredible hovering flight, with wing beat frequencies of 60 times per second, which is nuts. They have the highest metabolic rate for their size of any vertebrate; they are little machines that run on oxygen at a high rate. They also have the largest hippocampal formation in the brain of any bird, which is tied to spatial learning, presumably because they visit the same flower clusters over and over again, and must remember where and when they most recently slurped the nectar from individual flowers. It is amazing that evolution can take an animal to such extremes."
In addition to Dudley and Altshuler, other coauthors are Christopher C. Witt of the University of New Mexico, Albuquerque; J. V. Remsen, Jr., of Louisiana State University, Baton Rouge; Ammon Corl of UC Berkeley; and Daniel L. Rabosky of the University of Michigan, Ann Arbor.
The work was funded by the National Science Foundation (DEB 0330750, 0543556, 1146491).
RELATED INFORMATION