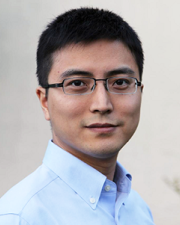 Jie Yao
Title
Assistant Professor
Department
Dept of Materials Science and Engineering
Research Expertise and Interest
optical materials
,
Nanophotonics
,
optoelectronics
Research Description
Our group is focused on the design, fabrication and characterization of novel optical materials and explore their applications in various areas including nanophotonics, plasmonics, optoelectronics. 
In the News
June 19, 2019
With a simple twist of the fingers, one can create a beautiful spiral from a deck of cards. In the same way, scientists at the University of California, Berkeley, and Lawrence Berkeley National Laboratory (Berkeley Lab) have created new inorganic crystals made of stacks of atomically thin sheets that unexpectedly spiral like a nanoscale card deck.
January 24, 2017
Jie Yao has developed a technique to readily change the structure of thin sheets of "metamaterials" so that they can focus light in an entirely new and commercially promising way.