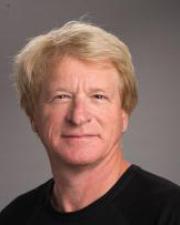 Jan M. Rabaey
Title
Professor in the Graduate School
Department
Division of Electrical Engineering/EECS
Research Expertise and Interest
sensor networks
,
integrated circuits
,
integrated wireless systems
,
low-power system design
,
biomedical interfaces
Research Description
Jan M. Rabaey is the Donald O. Pederson Distinguished Professor in the Department of Electrical Engineering and Computer Sciences at the University of California at Berkeley. He is a founding director of the Berkeley Wireless Research Center (BWRC) and the Berkeley Ubiquitous SwarmLab, and has served as the Electrical Engineering Division Chair at Berkeley twice.
Prof. Rabaey has made high-impact contributions to a number of fields, including advanced wireless systems, low power integrated circuits, sensor networks, and ubiquitous computing.  His current interests include the conception of the next-generation distributed systems, as well as the exploration of the interaction between the cyber and the biological world.
In the News
May 27, 2014
Neuroscientists, engineers and physicians are teaming up for an ambitious five-year, $26 million project to develop new techniques for tackling mental illness.
April 18, 2014
When Hollywood knocked on the doors of UC Berkeley engineering professors Michel Maharbiz and Jose Carmena, the researchers answered. Director Wally Pfister tapped their expertise in neural engineering and brain-machine interfaces during the filming of his movie, "Transcendence," which opens in theaters April 18.
January 17, 2013
Researchers in the Department of Electrical Engineering and Computer Sciences have been awarded $27.5 million over five years to spearhead the new TerraSwarm Research Center, which will address the huge potential — and risks — of the pervasive integration of smart, networked sensors connecting our world.