Neuroengineers bring science cred, Berkeley feel to 'Transcendence' film
Engineering professor Jose Carmena was working on a research grant in December 2012 when his colleague and friend, Michel Maharbiz, burst through his office door accompanied by director Wally Pfister and a production team for an upcoming sci-fi thriller. The Hollywood filmmakers were working on a story about a brilliant artificial intelligence scientist whose brain is uploaded to a quantum computer, and they were seeking to tap the UC Berkeley researchers' expertise in neural engineering and brain-machine interfaces.
The movie, "Transcendence," opens in theaters today (Friday, April 18), with Johnny Depp in the role of the scientist, Will Caster. The film marks the directorial debut for Pfister, who won an Oscar for cinematography for the movie "Inception."
"After they left my office, I did a search for 'Wally Pfister' on my computer, and the first thing that came up was a photo of Tom Hanks handing him an Academy award," said Carmena, co-director of the UC Berkeley-UCSF Center for Neural Engineering and Prostheses.
It began with a tour of computer labs
That December 2012 meeting with Maharbiz and Carmena was preceded by a tour of campus server rooms and computer labs by location scouts. Eric Fraser, assistant dean and director of information technology at the College of Engineering, showed the scouts key engineering buildings on campus as well as research facilities like the Marvell Nanofabrication Laboratory at Sutardja Dai Hall.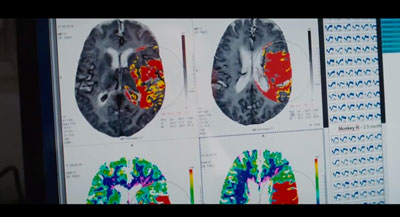 Viewers who have seen the official trailer may have detected a distinctly Berkeley feel to some scenes, particularly the aerial view of the UC Berkeley campus with the Campanile clearly visible. The film opens in the city of Berkeley, it shows the researchers living in a Craftsman style home typical of the area, and a quick reference to San Pablo Avenue is even included. 
But Fraser knew there was more to this movie than scene-setting, and so he led the filmmakers to Maharbiz and Carmena, both associate professors in the UC Berkeley Department of Electrical Engineering and Computer Sciences. (Notably, the department's acronym, EECS, also appears in the movie).
Enter the scientists
Based upon the premise of the movie, it was clear that the expertise Maharbiz and Carmena had to offer would be invaluable. Maharbiz, co-director of the Berkeley Sensor and Actuator Center and of the UC Berkeley Swarm Lab, explores the fusion of synthetic and living organisms, such as in his projects to create cyborg insects whose movements can be controlled remotely.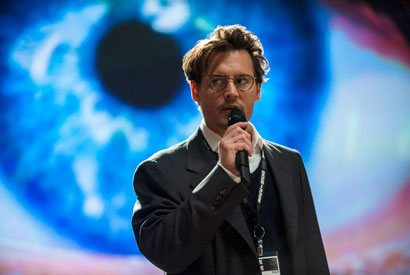 More recently, Maharbiz began working with fellow UC Berkeley engineers Dongjin Seo, Jan Rabaey, Elad Alon and Carmena on developing "neural dust," implantable brain sensors that can record neural signals and transmit real-time data to the outside world.
Carmena, who has a joint appointment at the Helen Wills Neuroscience Institute, is one of the world's leading experts on brain-machine interfaces. His lab is known for seminal contributions to understanding neural plasticity, and how brain and machines can co-adapt to improve the learning and control of neuroprosthetic devices. 
"They immediately launched into discussions that went beyond science and into philosophy and imagery," said Fraser of the initial meeting between Wally Pfister's team and the researchers. "They just clicked."
Security blankets and skulls
Maharbiz and Carmena provided Pfister with a primer in neural engineering and the potential connections between human and computer brains. They discussed the most recent advances in both nanotechnology and organic-synthetic interfaces, as well as projections for what would be possible in the next 20 to 50 years.
Not only did the researchers pore over the script, line by line, they flew down to Los Angeles to meet with Pfister and his "Transcendence" team on set.
It was the connection to these UC Berkeley researchers that brought Pfister back to campus on Wednesday, April 9, for a Q&A and a special screening of exclusive clips. At that event, he noted that as he transitions from cinematography to directing, having the science in the script vetted by experts became more important.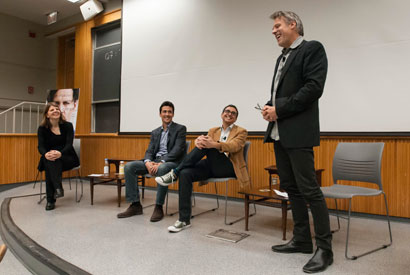 "I wanted these guys to flag anything that looked really stupid," said Pfister. "To have them there [on set] was really magical for us. It was like having a security blanket."
That said, both Pfister and the researchers emphasized the need for compromise for the sake of a mainstream movie, and said "Transcendence" definitely leaned toward the "fi" in sci-fi.
For instance, Carmena pointed out that electrodes placed on the scalp would not be credible as a tool with sufficient resolution to map the neural signals from the brain. Pfister told the audience that since he did not want to open up Johnny Depp's skull in a PG-13 movie, he opted for a middle ground where the deeper penetration of electrodes is implied.
What is consciousness?
In the end, what attracted the researchers to this project are the unresolved ethical and philosophical questions raised by the movie. 
"The ethical issues go well beyond the field of artificial intelligence," said Maharbiz. "We delve into the question of how much mixing of humans and machines is acceptable." 
"What is consciousness?" asked Carmena at the campus screening. "We actually don't really know what it is, or how to define it. We cannot measure it. All we can do is to describe our own subjective experience."
Are emotions and feelings the key? If so, should science and technology strive to recreate those qualities in the march toward singularity, a point when artificial intelligence surpasses that of humans?
Moreover, when a biological system is being integrated into a computer network, how does one distinguish "what is natural and what is artificial?" Pfister asked.
And as these questions are raised and debated, science progresses.
"Technology is progressing faster and faster," said Maharbiz, "and if that continues, something amazing – and potentially perilous – is going to happen."  
RELATED INFORMATION