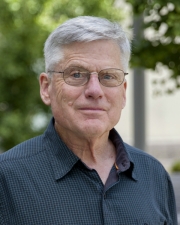 Edward Arens
Title
CBE Director and Professor Emeritus
Research Expertise and Interest
indoor environment
,
thermal comfort
,
occupant surveys
,
building environmental control
,
ventilation
,
wind
,
architectural aerodynamics
Research Description
Edward Arens, PhD, is Professor Emeritus of Architecture at UC Berkeley. Professor Arens is also Director of the Center for the Built Environment, an industry/university cooperative research center focusing on commercial/institutional buildings.
Professor Arens received his Ph.D. in Architectural Science in 1972 from the University of Edinburgh, UK, and also holds a BA in architectural history and masters degrees in Forestry and Urban Studies from Yale University. Prof. Arens started UC's Building Science Laboratory in 1980 after heading the Architectural Research Section at the National Bureau of Standards.
He has been principal investigator for a large number of state, federal, and industry grants addressing building energy performance, indoor environmental quality criteria, field monitoring procedures, and architectural aerodynamics. Projects include developing wireless sensor systems for building control and electricity demand responsiveness, developing and testing new personal environmental control systems, human comfort testing and modeling, web-based surveying of occupant satisfaction in buildings, determining energy efficiency potential of thermally diversified environments, metrics for rating comfort and energy use in building perimeter zones, effects of humidity on comfort and health, and natural ventilative cooling. He is active in technical and standards committees of ASHRAE (American Society of Heating, Refrigerating, and Air-Conditioning Engineers), and co-founded SBSE (Society of Building Science Educators). He has advised over 90 graduate students in the research track, and 18 Ph.D. students.
In the News
August 27, 2013
Researchers at the University of California, Berkeley, are working to take research innovations from their labs into the real world to cut commercial building energy consumption by close to a third, and give office workers an unprecedented sense of control over their thermal environments.
December 22, 2009
A Seaside, Calif., school that incorporates an ambitious sustainability goal of net-zero electricity usage is the winner of the University of California, Berkeley's Center for the Built Environment 2009 top Livable Building Award. Honorable mentions go to the design teams of the Cohos Evamy Toronto Studio on the 10th floor of a Toronto high-rise and of the renovated William P. Robinson Building at Norfolk State University in Norfolk, Va.