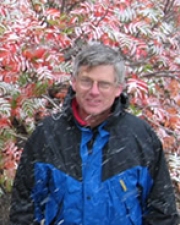 Edward Arens
Title
Professor of the Graduate School, Director, Center for Environmental Design Research, Director, Center for the Built Environment
Department
Department of Architecture
Research Expertise and Interest
indoor environment
,
thermal comfort
,
occupant surveys
,
building environmental control
,
ventilation
,
wind
,
architectural aerodynamics
Description
Building design and operation for comfort and energy conservation, innovative building mechanical systems and controls, occupant feedback for building operation and design, building aerodynamics.
In the News
August 27, 2013
Researchers at the University of California, Berkeley, are working to take research innovations from their labs into the real world to cut commercial building energy consumption by close to a third, and give office workers an unprecedented sense of control over their thermal environments.
December 22, 2009
A Seaside, Calif., school that incorporates an ambitious sustainability goal of net-zero electricity usage is the winner of the University of California, Berkeley's Center for the Built Environment 2009 top Livable Building Award. Honorable mentions go to the design teams of the Cohos Evamy Toronto Studio on the 10th floor of a Toronto high-rise and of the renovated William P. Robinson Building at Norfolk State University in Norfolk, Va.