Center announces most livable buildings for 2009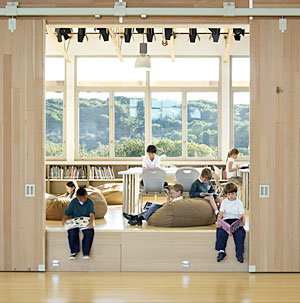 A Seaside, Calif., school that incorporates an ambitious sustainability goal of net-zero electricity usage is the winner of the niversity of California, Berkeley's Center for the Built Environment (CBE) 2009 top Livable Building Award.
The center and a team of seven judges announced the third annual Livable Building awards for excellent design, operation and occupant satisfaction. The UC Berkeley center's research team works with industry partners to improve building design, operation and environmental quality with impartial and timely information about building technologies and design techniques.
Officials said the Chartwell School was chosen the top award winner for its overall design quality, and for its goal of achieving net-zero annual electricity consumption by relying on a number of energy-efficient strategies, including the use of photovoltaic solar cells to generate electricity.
Livable Building honorable mentions go to the design teams of the Cohos Evamy Toronto Studio on the 10th floor of a Toronto high-rise and of the renovated William P. Robinson Building at Norfolk State University in Norfolk, Va.
To qualify for the Livable Building competition, a facility must be among the highest ranked buildings in CBE's Occupant Indoor Environmental Quality Survey. A building has to score in the top 50 percent in occupant satisfaction in areas such as air quality, lighting, acoustics and thermal comfort, and must place in the top 25 percent of survey responses for overall building satisfaction.
Scott Shell, principal and director of sustainability at CBE partner EHDD Architecture in San Francisco, said CBE's work and the survey "has really been a powerful influence in our work. The results for the many projects surveyed have taught us to pay close attention to acoustics, as well as the other issues that are so clearly articulated."
"These buildings are well liked by their occupants, as determined by CBE's occupant survey," said CBE Director Edward Arens, director of UC Berkeley's Center for Environmental Design Research and a UC Berkeley architecture professor. "In effect, we are giving the occupants a chance to vote on their buildings, which makes this award unique."
Details about the award-winning projects and their CBE survey results.
The Chartwell School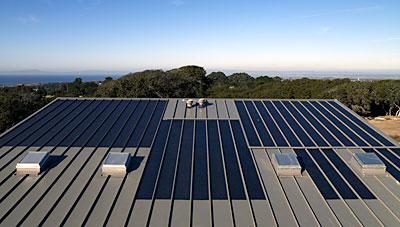 The Chartwell School campus, located in the native oak-covered hills overlooking Monterey Bay and on the site of the decommissioned Fort Ord U.S. Army base, scored in the 98th and 99th percentiles for air quality and thermal comfort respectively, the 75th percentile for acoustic quality, and the 86th percentile for overall building satisfaction.
The school building's features include tall, north-facing windows that control enough light and heat gain to reduce the school's need for electricity by 50 percent. In addition, classrooms and many other areas in the building rely on naturally occurring convection currents rather than noisy, high-maintenance and energy-hungry ventilation systems.
Officials at the school for children with learning challenges say their strong environmental focus also extends to Chartwell's academic curriculum – through the incorporation of its sustainable designs, meandering trails and native vegetation among its teaching tools – and to interactions between the school and the neighboring community.
Designed by EHDD Architecture and Taylor Engineering, the American Institute of Architects' Committee on the Environment included Chartwell on its list of Top Ten Green Projects for 2009. Chartwell became the first school in California to earn the Leadership in Environmental and Energy Design (LEED) Platinum status by the U.S. Green Building are online.
The Chartwell School was designed for net-zero annual electricity consumption through reliance on highly energy-efficient design strategies and the use of photovoltaic cells to generate electricity equal to the building's electricity use. Once it opened, however, it encountered unexpected energy challenges that were discovered through the design team's ongoing monitoring and commissioning efforts.
Peter Aslpach, an award competition judge and engineer with the global firm, Arup, praised the Chartwell team's ambitious energy goals and its subsequent detailed analysis that revealed how energy use projections can be thrown off – or improved – by dealing with simple operational issues such as leaving lighting on at night and unexpectedly high equipment energy use.
"I look forward to seeing what changes can be [made...], and how, as the building evolves, it can be tuned to realize its design performance," said Aslpach. He commended the project's value to others attempting net-zero energy use or evaluating existing buildings for efficiency.
Cohos Evamy Toronto Studio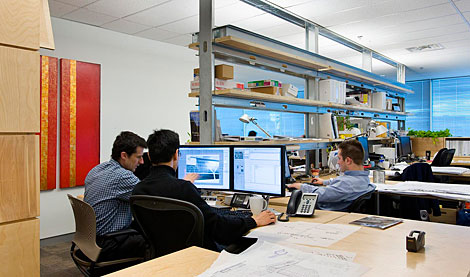 Contest judge Sandy Mendler, an architect with Mithun and a leading advocate for sustainable design, gave kudos to the Cohos Evamy green studio workspace in the Hudson Bay Tower in Toronto.
All workstations feature reused furniture, access to daylight and lighting with fixtures that sense daylight levels and occupancy to turn on and off. Some 80 percent of the studio's construction waste was diverted away from city landfills, and about 60 percent of waste produced by daily operations is recycled. In addition, each meeting room has individual temperature and ventilation controls, and zone-by-zone controls regulate thermal comfort, another factor for high occupant satisfaction scores in the CBE survey.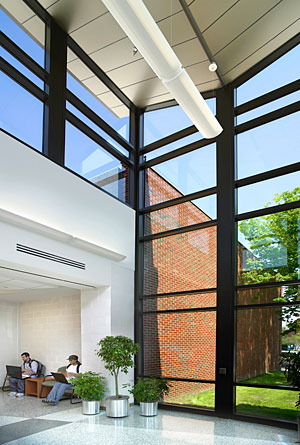 William P. Robinson Sr. Technology Building
"The transformation of an existing '70's building into the first Norfolk State University campus to earn LEED certification is impressive," said Kevin Powell, a competition judge and the research director at the U.S. Governmental Services Administration. "The lighting/daylighting design elements shown are impressive – and the CBE survey results look good."
Jurors noted that the Robinson Building can be seen as a positive example of blending sustainability into the renovation of a large number of now-aging and ready-for-renovation 1970s-era buildings. Kevin Powell remarked that the "greenest building is the one you don't build."