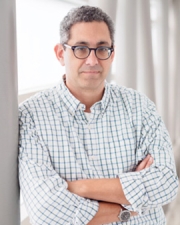 Daniel Rokhsar
Title
Professor of Genetics, Genomics, and Development
Department
Dept of Molecular & Cell Biology
Research Expertise and Interest
genetics and genomics
,
evolution of animals
,
genetic diversity in animals and plants
Research Description
Comparative analysis of genomic diversity across animals and their relatives.  The first signs of animal life appear in the fossil record ~600 million years ago.  Modern survivors of these early progenitors include sponges, placozoans, cnidarians (anemones, jellyfish, hydra), ctenophores (comb jellies), and bilaterally symmetric animals (flies, snails, worms, humans).  Each of these modern phyla retains some of the genomic dowry inherited from the early animals, elaborated on (and sometimes overwritten by) subsequent evolutionary innovations (and losses).  By comparing genomes, we not only characterize the basic biochemical, physiological, and developmental "tool kits" of animals, but also map out their evolutionary history, and infer evolutionary mechanisms for the emergence of animal diversity complexity from more humble unicellular beginnings.  Surprisingly, we are finding evidence for deep conservation of exon-intron gene structure, gene content and even chromosomal linkages and are using these features to try to reconstruct aspects of ancestral animal genomes.