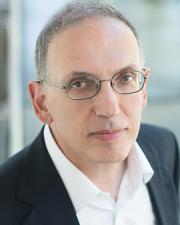 Costas J. Spanos
Title
Andrew S. Grove Professor and Chair of Electrical Engineering and Computer Sciences
Department
Division of Electrical Engineering/EECS
Research Expertise and Interest
integrated circuits
,
solid-state devices
,
sensors
,
semiconductor manufacturing
,
energy efficiency
,
smart buildings
Research Description
My present research interests include the application of statistical  analysis in the design and fabrication of integrated circuits, and the  development and deployment of novel sensors and computer-aided  techniques in semiconductor manufacturing. I am also working towards the  deployment of statistical data mining techniques for energy efficiency  applications, and I am the Principal Investigator of the Singapore based  SinBerBEST project, focusing on energy efficient buildings. In 2000 I  was elected Fellow of the Institute of Electrical and Electronic  Engineers for contributions and leadership in semiconductor  manufacturing, and in 2009 I was appointed in the Andrew S. Grove  Distinguished Professorship, in the Department of Electrical Engineering  and Computer Sciences.
In the News
April 1, 2020
UC Berkeley's Costas Spanos thinks you should track your workers and hand over the lights and temperature controls to artificial intelligence.
March 26, 2020
The University of California, Berkeley, and the University of Illinois at Urbana-Champaign (UIUC) are the headquarters of a bold new research consortium established by enterprise AI software company C3.ai to leverage the convergence of artificial intelligence (AI), machine learning and the internet of things (IoT) to transform societal-scale systems.
January 24, 2014
Costas Spanos, the Andrew S. Grove Professor and Chair of Electrical Engineering and Computer Sciences, will become the fourth Director of CITRIS (the Center for Information Technology Research in the Interest of Society).