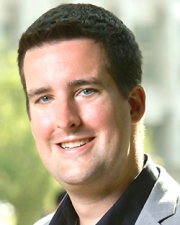 Clayton Critcher
Title
Assistant Professor of Marketing
Research Expertise and Interest
the self (self-insight
,
self-affirmation
,
self-regulation)
,
judgment and decision making
,
moral psychology
,
social cognition
Research Description
I am interested in how people come to understand themselves, form impressions of others, and operate as political, economic, and moral beings in a challenging and complicated world. As a judgment and decision making (JDM) and social cognition researcher, I examine the sophisticated and clever ways that people go about achieving these many goals, as well as the inevitable shortcomings that arise in such a complex pursuit. As reflected in my diverse research programs, I believe that the level of analysis afforded by social psychological and related methods allows for meaningful examination of a wide range of human experience.
In the News
February 22, 2018
With primary season just around the corner, voters will soon start hearing a familiar refrain: "I'm Candidate X, and I approve this message."
February 10, 2011
The debate over the veracity of global warming may be judged not by pure science but rather, perception. Being in a warm room can make the idea of global warming seem more likely, according to Clayton Critcher, assistant professor of marketing at the Haas School of Business.