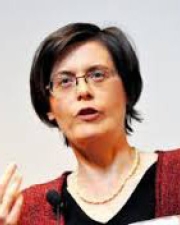 Cathryn Carson
Title
Thomas M. Siebel Presidential Chair in the History of Science
Research Expertise and Interest
history of physics
,
science and society
,
history of universities
,
German history
,
intellectual history
,
ethnography
,
data science
,
nuclear waste
Research Description
Primary field is history of science, extending to contemporary research institutions. Interests include all kinds of history of physics (19th and 20th centuries), intellectual history of philosophy and science, nuclear history, and research institutions and politics in the United States and Germany. Related administrative leadership work at Berkeley in data science. Current projects include a book on the philosopher Martin Heidegger and theoretical physics, an ethnographic study of data science at Berkeley, ongoing collaborations with engineers around nuclear engineering and around engineering ethics, and the history of probabilistic risk assessment in nuclear waste management.
In the News
October 26, 2017
The grants recognize the campus's leadership in data science education.
July 28, 2011
A summer school program designed to improve the social scientific literacy of nuclear engineers will use Japan's Fukushima Daiichi nuclear crisis as a case study. The six-day program, to be held in Berkeley from July 31 to Aug. 5, is being organized by faculty at UC Berkeley and the University of Tokyo.
January 12, 2011
Several dozen scholars, analysts, scientists, and students gathered in Berkeley for an unprecedented and often contentious workshop on the future of nuclear power. The workshop, sponsored by UC Berkeley's newly formed Center for Science, Technology, Medicine and Society, brought together social scientists and their counterparts in science, engineering, and policy.