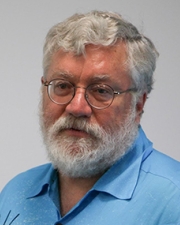 Brent D. Mishler
Title
Professor of Integrative Biology
Department
Dept of Integrative Biology
Research Expertise and Interest
evolutionary biology
,
development
,
ecology
,
systematics
,
phylogeny
,
comparative genomics
,
green plants
,
bryophytes
,
mosses
,
reproductive biology
,
phylogenetics
,
chloroplast DNA
,
classification
,
species concepts
,
biodiversity
,
Darwin
Research Description
My research interests can be grouped into two main areas: empirical studies of ecology, phylogeny, systematics, and development of mosses, and the theoretical basis of systematic and evolutionary biology.
Empirical studies include: 
The phylogenetic relationships of the major groups of bryophytes and other green plants, using morphological, developmental, and ultrastructural characters as well as chloroplast DNA sequence data.
The development of moss peristomes in relation to evolution of the group.
Biosystematic studies of the haplolepideous mosses, including the tropical family Calymperaceae and the diverse temperate genus Tortula (Syntrichia), which involve remote-sensing, transplant, and ecological studies in the field, DNA sequencing, comparative physiological measurements, and culture experiments in the lab, and morphological studies in the herbarium.
The reproductive biology of bryophytes, especially dryland mosses.
The bryophyte flora of California and of Moorea (in the Society Islands of the South Pacific), and Australia.
Theoretical studies include:
Investigations of the nature of species, rank-free classification, methods for phylogenetic reconstruction (with an emphasis on cladistic analysis of molecular and genomic data).
The relationship between development and evolution, phyloinformatics (comparative genomics, databasing, and visualization of phylogenetic trees).
Biodiversity informatics (digitization and databasing of biological collections, and integration with taxonomic, ecological, geographic, and phylogenetic data).