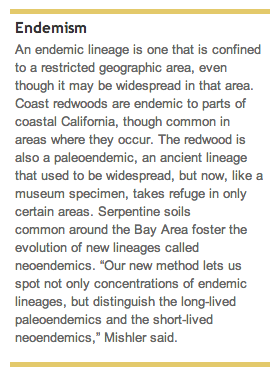 "Our new method lets us spot not only concentrations of endemic lineages, but distinguish the long-lived paleoendemics and the short-lived neoendemics," Mishler said.
The new paper takes as an example a small subset of Australia's flora, its acacia trees. Mishler and coauthors show how one can lay a grid across the entire continent and count not only the species (twigs) in each area, but also the phylogenetic distance between species (the branch length between twigs), measuring down the branch to the nearest junction, then back up to the other twig. Diversity weighted by a branch's endemism yields a unique map of areas of endemism.
The scientists' analysis identified three areas – the rainforests of southwest Western Australia, the Gascoyne region and Tasmania – where conservation efforts might preserve rare endemic species.
According to Mishler, the model could someday establish definitively which regions of the world, such as California or Australia, are the most diverse.
Mishler's colleagues are Nunzio Knerr, Carlos E. González-Orozco, Andrew H. Thornhill and Joseph T. Miller of the Centre for Australian National Biodiversity Research in Canberra and Shawn W. Laffan of the Centre for Ecosystem Science at the University of New South Wales in Sydney.
Mishler's work was supported by a Distinguished Visiting Scientist Award from the Commonwealth Scientific and Industrial Research Organisation (CSIRO), Australia's national science agency.
RELATED INFORMATION