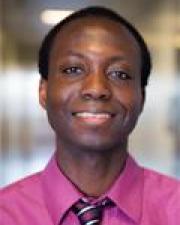 Boubacar Kante
Title
Associate Professor
Department
Division of Electrical Engineering/EECS
Research Expertise and Interest
wave-matter interaction
,
Nanophotonics
,
nanoscale photon management
,
biophysics
In the News
February 25, 2021
Researchers at the University of California, Berkeley, have found a new way to harness properties of light waves that can radically increase the amount of data they carry. They demonstrated the emission of discrete twisting laser beams from antennas made up of concentric rings roughly equal to the diameter of a human hair, small enough to be placed on computer chips.
June 25, 2020
Traditional lenses — like the ones found in eyeglasses — are bulky, heavy and only focus light across a limited number of wavelengths. A new, ultrathin metalens developed by researchers at the University of California, Berkeley, uses an array of tiny, connected waveguides that resembles a fishnet to focus light at wavelengths spanning from the visible to the infrared with record-breaking efficiencies.